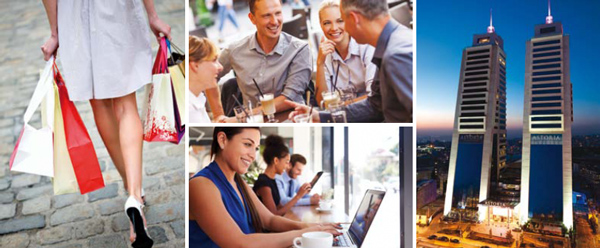 As cities develop, so must the use and function of their buildings and spaces. Istanbul has been somewhat of a global phenomenon in terms of the change it has undergone over the last 15 years.
To fit in with this change, Astaş has re-developed one of its key holdings, the Astoria mixed-use project in Esentepe.Understanding the exceptional accessibility of Astoria at the heart of the CBD and its popularity with the surrounding business community, Astaş carried out a major refurbishment around the 'Meeting Place' concept, providing a dynamic local retail, restaurant and café scene aimed at busy business men and women, next to ultra-modern work spaces offering large open-plan floors with high ceilings and abundant natural light, to cover the needs of a rapidly evolving office sector. By re-using an existing space, this project also promotes sustainability in the urban fabric.
The office floors were quickly taken up by one of the world's leading global advertising and media networks with a heavy focus on brands. Brands have always been at the core of Astaş'business, which is arguably the number one developer of luxury branded projects in Turkey.
The retail space has been re-organized in a way that ideally suits its central business location, offering a range of lifestyle amenities, from a full restaurant streetscape, integrated with a state-of-the-art health and fitness center, to business fashion, IT stores, a floor hosting gift and accessories shops and a supermarket for business people to easily pick up essentials on their way home.
A large terrace with WiFi and 'plug in zones' at the back for recharging iPads and laptops offers a place of refuge for business people 'on the move'. Indeed, the concept of providing amenities for the business community extends to the restaurant streetscape, with 'plug in points' available in a series of common seating areas.
The new Astoria is set to become the destination of choice in the area, creating a space that business people can feel comfortable in, while fulfilling their daily requirements.
More information:

Kempinski Residences Astoria,
Büyükdere Cad. No:127 A Blok,
Kat :12, 34394, İstanbul Türkiye
T: +90 (212) 215 22 22 F:
+90 (212) 215 20 33
E: info@astoria.com.tr W: www.astoria.com.tr/
Astoria

Istanbul, Turkey

Land offered:
127,000 m²
Parking Spaces:
800
Investor: Astaş Holding
Refurbishment date:
2014
Public transportation:
Train and bus
Tenants:
Retail, Office, Residential, Health & Fitness