Hamburg is setting new standards in Europe with the devlopment of HafenCity. Comprising 157ha, HafenCity is a conversion project in which port areas formerly used by industry and logistics are being transformed into a mixed-use urban quarter for living, working and leisure. The new city area by the water is being redefined through impoved urban layout and architecture. In total more than 2.5 million m² gross floor area (GFA) is to be constructed above ground. More than 7,500 residential units for around 15,000 residents are being built, as well as business premises offering in excess of 45,000 job opportunities (of which 35,000 will be in offices), plus educational institutions (child daycare, schools, universities), restaurants and bars, retail, cultural and leisure amenities, with parks, plazas and promenades – after overall completion, 80,000 visitors per day are expected.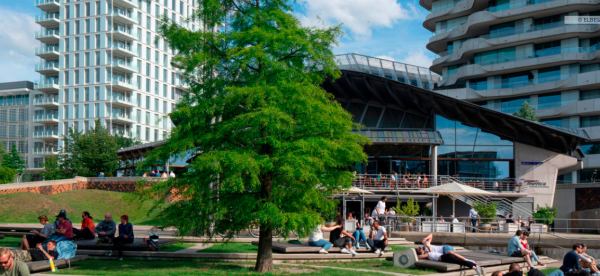 With around 15,000 residents, HafenCity will double the housing supply in Hamburg's inner city (Altstadt, Neustadt and HafenCity) when completed. In terms of figures, each hectare of land accommodates around 118 residents and an additional 354 jobs. This density meets the growing demand for inner-city living space and workplaces, and at the same time contributes to sustainable land use. In terms of construction, this density is achieved while retaining the perimeter block development typical of major European cities with only individual high-rises. The floor space index (FSI) – i.e. the gross floor area (GFA) of all buildings within a neighborhood in relation to its land area – ranges from 3.7 to 6.1, depending on the neighborhood. The proportion of road traffic areas normally required has been reduced to 23% in HafenCity, compared with 42% in the old town between Speicherstadt and Binnenalster. This allows a large proportion of public and publicly accessible open spaces amounting to 38 %. In the Altstadt between Speicherstand and Binnenalster, this figure is only 5%. The open spaces not only have a high recreational value, they also, together with the water areas, prevent the urban space from overheating in summer. HafenCity thus achieves a high quality of compact living and working with high land use efficiency.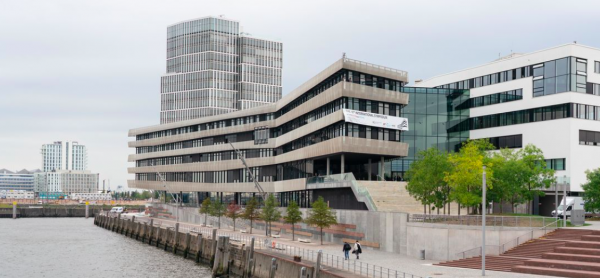 With around 45,000 jobs, HafenCity is also an important business location for the entire metropolitan region. Large corporate headquarters and branch offices have been given an attractive, inner-city location in HafenCity. These include the well-known Hamburg media company "Der Spiegel" at Ericusspitze and the Gruner + Jahr publishing house under construction at Lohsepark. The maritime sector includes the companies Kuhne + Nagel, COSCO SHIPPING Lines, the shipping company Eukor and DNV-GL. With Greenpeace, the Loki Schmidt Foundation and the energy company Enerparc, there is also a special sustainability connection in HafenCity's entrepreneurial community. Start-ups, small companies with high growth potential and co-working providers are also increasingly discovering the urban qualities of HafenCity. The Finhaven fintech hub has been created in the Campustower and, with the Blockchance Campus, Hamburg has gained its first co-working space for blockchain technology. The Foodlab in Watermark Tower is a globally unique co-working space for founders from the food scene. The EDGE HafenCity office building is a fully digitalized office building that structures and supports the creative appeal of co-working through digital tools.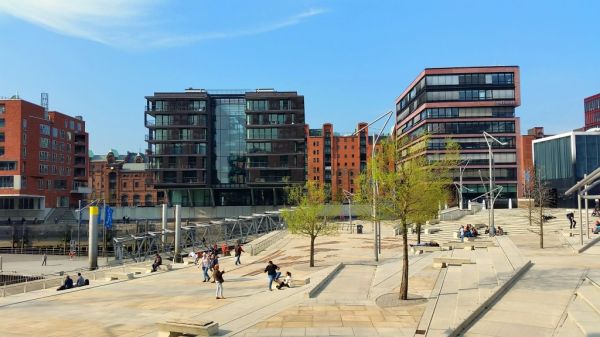 For Hamburg, HafenCity is not simply a major real estate project in which individual projects need to be realized as quickly and efficiently as possible – it is the vehicle for achieving exemplary urban quality and defining the city anew for the 21st century. But this is by no means confined to urban planning, architecture or uses. It also extends to sustainability. To give just one example, with its sustainable mobility concept (sharing and e-mobility) HCH is currently setting completely new priorities in eastern HafenCity and thus making a key contribution to Hamburg's sustainable transformation strategy. Social sustainability and social resilience are other topics that are subject to ongoing strategic development and are being taken up by individual developers.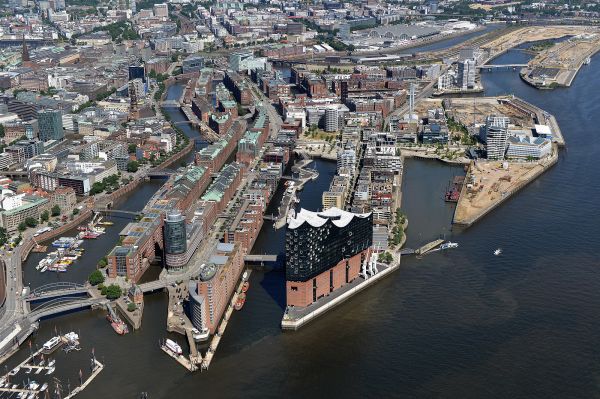 New experiments and innovations are constantly playing their part in HafenCity's increasingly ambitious development, which in many areas has also emancipated itself from the 2000 Masterplan but without losing sight of its basic idea. Because the development of HafenCity simultaneously creates an institutional framework for integrating new model projects, it provides a highly regarded platform for innovation. The city of Hamburg can thus also substantially strengthen its pioneering role in the area of forward-looking urbanity and make a significant contribution to climate-friendly and social progress.
---
GLA:
Overall area: 157 ha of former port and industrial land
Land area: 127 ha
Investment volume:
private investment – around €10bn
public investment – €3bn, mostly financed from special assets fund from sales of plots in HafenCity
Managed by: HafenCity Hamburg GmbH
Start of the project: 2000
Completion: TBD
80 projects completed; 61 projects under construction or planned
Address: Hamburg, Germany