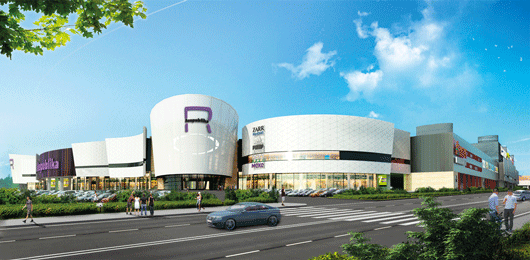 Respublika Shopping Mall is part of a multifunctional complex which includes a residential development of 1.2 million m². It is located in the capital of Ukraine, Kiev. Situated within the main retail hub and near major city highways, it is connected to over 20 public transport routes and will have a subway station nearby in the foreseeable future that will provide non-stop public transport accessibility to 80% of the city. Respublika will be within a 90-minute drive of an area of over 8 million people.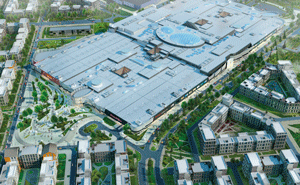 The mall's dimensions surpass those of any other malls currently operating in Ukraine. The construction and equipment costs of this unprecedented project will be approximately US $350 million. The total area of the three-level mall will be around 300,000 m², with a GLA of 138,000 m². The tenant mix of the mall includes over 400 shops, 50 cafés/restaurants, new large-scale retailers and a unique entertainment area.
For the first time, shopping mall visitors will have a chance to ride a 500-meter-long roller coaster and an 18-meter diameter ferris wheel. The entertainment area will include a wind tunnel for thrill-seekers, an attraction called 'a falling tower', and an entire hectare dedicated to a kid's amusement center. Visitors to the mall will be able to watch movies in the ultramodern cinema featuring 12 halls, bowl with friends on 24 lanes, go ice-skating or rollerskating, spend time in the food court and sit in cozy cafés with terraces. The mall design will impress with its attractive and interesting facade, sky-lit galleries, high shop windows, and grand atrium zone the size of a football field.
The convenient location and beautiful modern interiors and the unique combination of household brands and leisure facilities will make Respublika the favorite place for shopping and rest. Indeed, the shopping and entertainment complex Respublika is created for those who appreciate quality leisure time and like buying gifts for themselves and for others, keeping up with fashion and preserving their individuality at the same time.
More information


LLC Megapoliszhytlobud

Kiev, Ukraine
T: +38 (044) 593 10 46
E: info@respublika.com.ua
W: www.respublika.com.ua

K.A.N. Development

T: +38 (044) 247 57 48
E: office@kandevelopment.com
W: www.kandevelopment.com

UTG

T/F: +38 (044) 537 23 64
M: +38 (067) 215 35 40 (Sergey Zaika)
E: sz@utg.kiev.ua
W: www.utg.kiev.ua
---
RESPUBLIKA
Kiev, Ukraine


Total GLA: 138,000 m²
Hypermarket: 16,500 m²
Furniture hypermarket: 10,000 m²
Sport supermarket: 4,000 m²
Electronics: 2,500 m²
Indoor family entertainment park: 30,000 m²
Restaurants and cafés: over 50
Parking spaces: 4,500
Residential: 1.2 million m²
Investor: Megapoliszhytlobud LLC
Developer: K.A.N. Development
Architects: Archimatika (Kiev, Ukraine)
Marketing Consultant & Leasing Agent: UTG
Investment in construction and equipment: US $350 million
Start of construction: 2011
Opening: Q4 2014
---