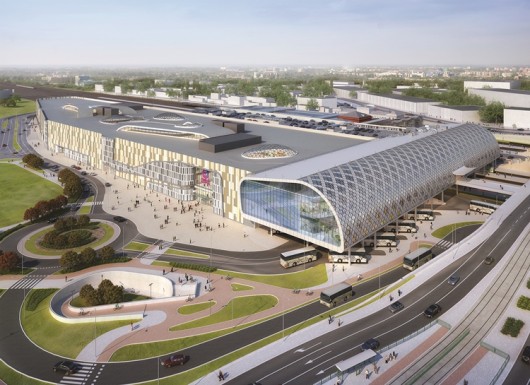 In June 2010, TriGranit Development Corporation and Polish Public Railways (PKP) signed an agreement for the development of an Integrated Transport Center in Poznan. The development will consist of a railway and bus station, as well as a shopping gallery and a park-and-drive facility for approximately 1,500 cars. A fast tram, developed by the City of Poznan, will also be incorporated into the project. The new development is situated at the very heart of the city, next to the Poznan International Trade Fair.
TriGranit was chosen by the Polish national railways, PKP S.A., from among seven other real estate development companies to revitalize and renew Poznan's main railway station. According to the partnership, PKP S.A. contributes the land to the investment while TriGranit acts as the developer and equity investor, coordinating the necessary permissions and arrangements with the Poznan municipality as well as securing the required financing.
"TriGranit will bring its expertise and long-term commitment gained in over 10 years in CEE to Poznan and, together with PKP, create a new center and meeting point for Poznan citizens," commented Arpad Torok, TriGranit CEO.
The GBA of the new transport hub and shopping center will amount to approximately 160,000 m², while the total GLA for the two phases is 58,000 m². Currently, 86% of the GLA is covered by signed leases while most of the remaining space is in negotiations with potential tenants. An intercity and international coach terminal with 19 bus bays will also be integrated into the center.
More information

TriGranit Development

Polska, Sp. z o.o.

ul. Zielna 37. C building
00-108 Warszawa
Poland
T: +48 22 338 66 77
F: +48 22 338 65 50
E: info@trigranit.pl
W: www.trigranit.pl
www.poznancitycenter.pl
Poznan City Center

Integrated Transport

Center

Poznan, Poland

GLA: 58,000 m²
Number of shops: 230
Parking spaces: 1,500
Investor: TriGranit Development Corporation, Europa Capital, PKP (Polish Public Railways)
Opening date: Q2 2012 - railway station, Q4 2013 - shopping center, bus terminal
Tenants: Piotr i Paweł, Saturn, Royal Collection, Inditex, TK Maxx, Toys "R" Us, Sportsdirect.com, H&M, LPP S.A., Rossmann and Pure Jatomi Fitness