London has the highest concentration of talent in the world, thanks to its world-class universities and a highly educated workforce and is the 5th most innovative city globally according to JLL's latest research. Edinburgh, Scotland, is also punching well above its weight as a global talent hub in 15th position.
In the global research report, Innovation Geographies, the company analysed over 100 cities worldwide to quantify their innovation and talent attributes, and examine how this links with real estate performance. Findings show that top-performing cities in both innovation and talent not only outperform in economic activity over the long term but have also recorded the fastest office rental growth over the past decade and are attracting a higher proportion of real estate capital.
London is the leading global talent hub, with the best-educated workforce of any city globally – nearly 59% have a tertiary education, compared to the global average of just 34%. It is also one of the world's most innovative cities. Nearly 15% of London's workforce is employed in high-tech sectors and venture capital funding for technology start-ups is amongst the highest in the world, at around €22.4bn (US$25bn) between 2016-2018.
Of the 109 cities analysed, the nine leading global markets – London, Boston, New York, Paris, San Francisco, Seattle, San Jose, Sydney and Tokyo – accounted for around 37% of total annual real estate investment volumes over the past decade with London attracting the largest share of real estate capital over this period.
Like real estate investors, corporate occupiers also search for locations that have advanced innovation ecosystems and provide access to deep talent pools making these cities more likely to succeed in the future. London is a leading corporate hub, and in addition to its thriving start-up scene, places in the top 5 globally for corporate HQs.
As a city of only half a million people, Edinburgh outdoes other cities of its size when it comes to talent concentration. Its growing demographic of 20-40-year old's now account for 35% of the population, the highest in Europe. More than half of its workforce has a tertiary education, with the University of Edinburgh highly regarded and ranked among the top in the world.
Edinburgh's strengths as a talent hub haven't gone unnoticed by ambitious start-ups. It is the birthplace of tech unicorn, Skyscanner, and base of the UK's largest tech incubator, Codebase. R&D expenditure accounts for 2.2% of GDP, double R&D's share in either Glasgow, Manchester or London, and outside London, Edinburgh received more high-tech foreign direct investment (FDI) than any other UK city between 2015-2018.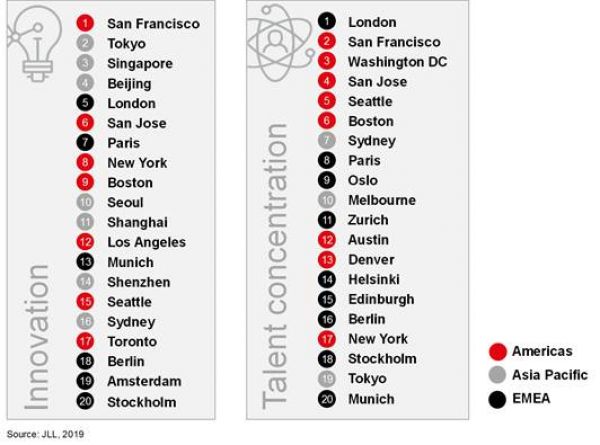 Chris Ireland, CEO, JLL UK said: "The link between innovation and talent-rich cities and real estate performance is evident. JLL's research confirms that innovative cities have a strong competitive advantage when attracting real estate investment and corporate occupiers. Innovation helps to drive productivity which leads to economic growth. By creating more jobs and attracting more talent, demand for real estate follows. Identifying talent hotspots and cities with strong innovation potential is now an important part of real estate investment strategies for our clients."
Neil Prime, head of London Office Markets and UK Office Agency at JLL UK, said: "Despite Brexit uncertainty, London leads the pack in terms of talent concentration, showing that in addition to world-class universities, and robust levels of investment in R&D and high-tech industries, London is a city that is resilient and remains perennially attractive to both workers and investors."
Cameron Stott, head of Office Agency Edinburgh, JLL UK, said: "Edinburgh's burgeoning tech sector and resilient financial sector means it remains a firm favourite with investors. Indeed, the city ranked 2nd globally for investment volumes relative to the economic size and has continued to rise up the ranks of the most sought-after investment locations in the UK. The combination of quality of life and a rich seam of talent coming from Edinburgh's universities has helped the city prosper, however, to ensure continued investment, identifying new submarkets will be a key priority."