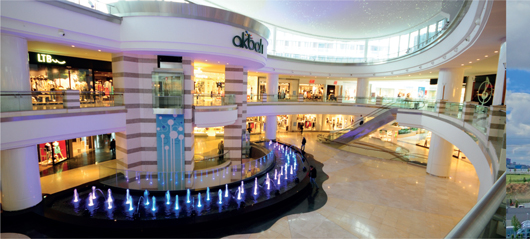 A lifestyle center offering high-quality comfort within its shopping center and residences, Akbatı has emerged as the shining star of Esenyurt. Akbatı Shopping Mall was designed by the globally renowned US-based Development Design Group (DDG), which also designed the Akmerkez Shopping Mall. Appealing to today's modern society with its design, inner courts and galleries, it represents a distinguished lifestyle.
One of the largest shopping malls in Istanbul, Akbatı
Shopping Mall includes nearly 200 stores, nine movie theaters, and specially designed recreational areas. There are also playgrounds and training areas for kids, a parking lot with capacity for 3,000 vehicles, and a Restaurants Avenue where you can enjoy food from around the world; all within a leasable area of 65,542 m², spread over four floors. Restaurants Avenue is a major hub of Akbatı Shopping Mall and hosts many elegant cafés and restaurants offering delicious fare; its outdoor areas provide great future value to residents and visitors alike. Festival Park, one of many features distinguishing Akbatı Shopping Mall from others, will host cultural activities, concerts and festivals. It became the new meeting point of the region. Akbatı Residences are located over the Akbatı Shopping Mall.
Designed and built as a lifestyle center, Akbatı Residences comprise the 21-story Blue Tower and 11-story Green Tower. Akbatı Residences include 350 standard or duplex apartments, lofts, penthouses, and terraces. Akbatı offers its residents a magnificent environment with special social and sport centers, an indoor swimming pool, sauna, steam room, pilates hall, massage room, fitness center and café. Other outstanding features include the lavender gardens, lotus ponds, outdoor swimming pool, sunbathing terraces, special pool and playgrounds for kids, recreational areas, specially designed ornamental pools and walking paths. In addition, the standard of comfort and quality is taken to new heights in our TV lounge and business center.
---
Akbatı Shopping Mall & Akbatı Residences

Istanbul, Turkey

Total land area: 50,838 m²
Total construction area: 242,000 m²
Start of construction: November 19, 2007
Completion: September 15, 2011
Retail GLA: 65,542 m²
Developer-Owner-Investor: Akiş Gayrimenkul Yatırım Ortaklığı A.Ş.
Investment: US $220 million
Architectural Project: Development Design Group
Awards:
European property awards - 2012: Best retail development Turkey
European property awards - 2012: Highly commended mixed used development Turkey
---