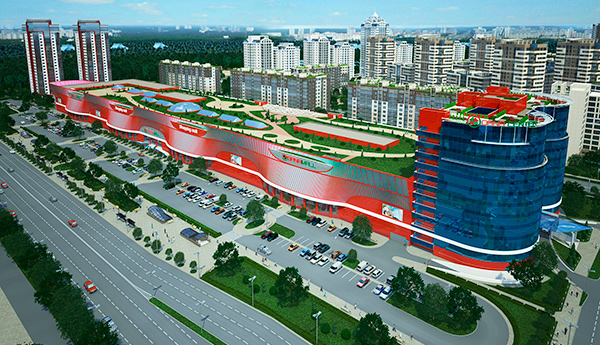 With over 50,000 m² gla Dana Mall has 150 units spread over three floors, zoned into clear and distinct categories, with some areas having their own distinct interior design criteria. The tenant mix includes fashion, shoes, homewares, sports, services, hypermarket, electrical superstore, rest and refuel F&B, international brand food-court, multiplex cinema, children edutainment center, and soft play area.
The unit sizes are much larger than normal in Minsk, however are aimed at meeting international retailer requirements. Therefore in addition to the anchor stores, over 20 msu's have been shaped to ensure a high proportion of Flagship stores in Minsk are located within Dana Mall.
Dana Mall has prime location in the North Eastern quarter of the city in a quickly expanding executive district, with 900,000 residents in a 20 minute travel time. It is located in the heart of a central transport hub providing easy access for cars, metro and bus. Over 4000 free spaces and covered parking are available for added customer convenience. Original design concept was done by a world class team of people that has previously worked on schemes such as Koruflorya, Istanbul; Supernova Noida, India; or Dostyk Plaza, Almaty.
The Mall has an interior design that meets and exceeds the best international expectation with wide malls extending to 16 meters, high ceilings, clean lines and natural light flooding through the abundance of glazed atriums. The mall trading, cafes and snack bars all provide added value and enhance the customer experience. Delivering a dwell time in excess of 90 minutes, maximizing consumer spend opportunity within an offer that sets the benchmark in customer experience for all the family.
The pedestrian flow dynamics, both lateral and vertical, optimize the placement of anchor and magnet tenants, with clean sightlines, welcome lobbies, customer information desks and excellent facilities. Dana Mall is attracting and signing up more new to market retailers than any other Mall in Minsk. At 80% pre-leased, one year before opening, make sure your brand does not miss out and contact us.
Dana Holdings

Minsk, Belarus

Total GLA: 50.000 m²
Number of shops: 150
Developer: Dana Holdings
Opening date: Autumn 2015
Tenants: International retailers,many new to the market
More Information

Dana Holdings Mstislavtsa str., 4 office 165/2 220114, Minsk Belarus
T: +375 17
269 32 79
website: www.dana-mall.com
email: info@dana-mall.com