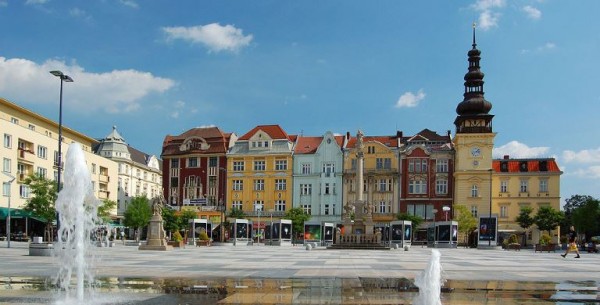 ECONOMIC OUTLOOK

Ostrava has a progressively growing economy. High credit ratings, tremendous incentives, opportunities for business development,  about 5 million people living within 100 km from Ostrava—these figures show that the city is the center of the fastest-growing region of the Czech Republic.
This region contributes about 10.2% of the total national GDP, which was €147.8 billion in 2012. GDP per capita in the Czech Republic is 79% of the EU average and in the city of Ostrava it is about 95% of the EU average. Ostrava has one of the best strategies for the promotion of foreign direct investment, which reached €4.6 billion in 2011.
The rate of unemployment in this region is above the national average, although since 2002 it has been steadily decreasing. Ostrava therefore offers an opportunity for new investors and business development. There is a good balance of free labor, quality of labor and wages.
The education level has evolved thanks to a system of public and private schools providing a growing number of courses in English and thanks to a strong local tradition in the sciences, research & development and innovation.
INVESTMENT MARKET

The city is emerging as an attractive investment destination thanks to many potential strategic projects and the spirit of cooperation and partnership among the players involved. Ostrava is attractive due to its own uniqueness, trustworthiness and long-term dynamic and sustainable development.
Ostrava is presenting itself as a city with a huge potential for various investment goals. The emphasis will primarily be on the importance of Ostrava as a fast developing city in the area of hi-tech technologies. These, together with innovative processes, are the motor of its increase in competitiveness. Thus Ostrava is working intensively on the development of facilities for new technologies connected to innovation, supported by research and development. Related to this is the launch of the IT4Innovations project. The aim is to build a national Centre of Excellence in the field of information technology.
The IT4Innovations National Supercomputing Centre will employ approximately 200 highly qualified researchers. Project costs amount to approx. €69 million for the period 2010-2015. It should rank among the top 100 most powerful supercomputers in the world.
OFFICE MARKET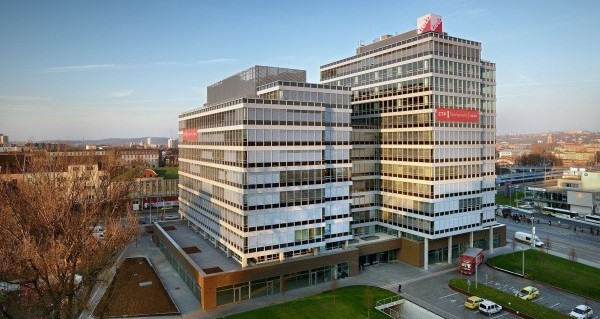 The IQ Ostrava Office Park
At the end of 2012, modern office stock in Ostrava stood at 169,600 m². Approximately 69% of total office space was of class-A quality. In 2012 three projects were delivered to the market; Tieto Towers (21,700 m²), Gong Business Center (2,400 m²) and Nádražní (4,700 m²). In 2012, total leasing activity (TLA) in Ostrava was driven by class-A, new built office premises in which 82% of transactions took place. TLA in 2012 reached 16,400 m² of which only 3,700 m² of office space was renegotiated. In spring 2013 Nová Karolina Park was completed with a total of 24,900 m² of new modern class-A office space. The achievable prime rent in Ostrava stands at €12.50/m²/ month.
Nordica Ostrava is part of the EU GreenBuilding Program, IQ Ostrava Office Park and Nová Karolina Park have achieved a BREEAM certification.
RETAIL MARKET

The largest shopping center in Moravia and the second largest in the country is Avion Shopping Park Ostrava with approximately 110,000 m² and more than 4,000 parking places. It has been undergoing an extensive modernization worth almost a billion Czech crowns which will provide improvements for the overall comfort for visitors as well as in terms of design and energy savings.
Forum Nová Karolina shopping and entertainment center opened to the public in March 2012. This imposing structure, with a floor space of 97,000 m², is home to over 200 shops, restaurants, cafes, a food court, an underground parking with space for 1,500 cars, a multiplex cinema and a children's center.
There is 249 m² of retail space per 1,000 people in the Czech Republic, with the density of retail stores having already surpassed some Western European countries.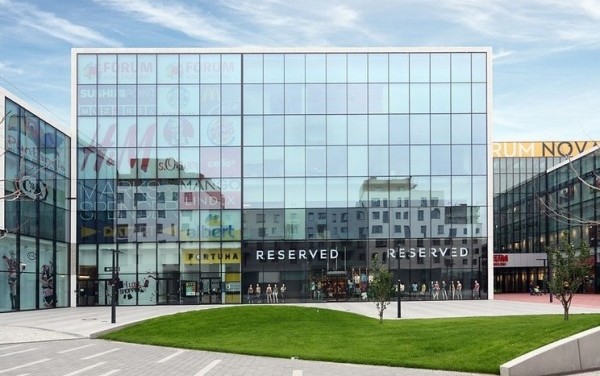 Forum Nova Karolina
INDUSTRIAL/LOGISTICS MARKET

The total industrial stock in the Czech Republic amounts to 4,113,177 m² of which 319,056 m² is in the Ostrava region. After the successful construction of industrial zones, numerous foreign and domestic investors were attracted to the area. Now Ostrava is a key logistics center for trade along the north-south and east-west corridors due to its strategic position. It is able to provide affordable available labour combined with high-quality warehouse space against favorable lease terms.
The Hrabová Industrial zone and Ostrava Mošnov Industrial zone are the main zones in the city in which investors so far have invested a total of 18.2 billion CZK and have created 8,553 new jobs (as of December 2012). Logistics Parks like ProLogis Ostrava or Segro Tulipan Park offer additional space to the market.
HOTEL MARKET

The hotel market in Ostrava is dominated by four and three-star hotels (44 hotels with 2,576 beds). Some of the international brands present in the market are Accor, Radisson, CPI and Mamaison. The total annual growth of tourist arrivals in Ostrava was around 9% in 2012. The number of overnight stays in 2012 was 521,261. 
About the City of Ostrava:

The City of Ostrava is part of the Czech Convention Bureau with a focus on the MICE segment. Its main purpose is to promote the Czech Republic effectively at home and abroad as an ideal destination for holding conferences and incentive events to increase the number of such events held in individual regions of the Czech Republic.