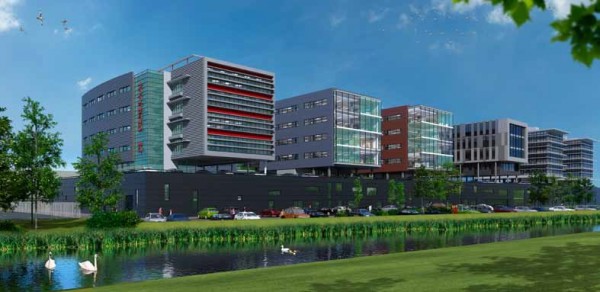 Veenendaal is located in the upcoming Food Valley, which is rapidly developing into a center of agrifood-related research, innovation, and business.
The city of Veenendaal is attracting a growing number of companies from the ICT sector and is aspiring to become the ICT center of the entire region.
The business park has a total capacity of approximately 170,000 m² and can accommodate a wide range of business activities: from large to small scale and from services to offices with business functions. The plot sizes range from 1,500 to 7,000 m² and allow for the development of 6,000 to 30,000 m² buildings with a maximum height of 24 meters, spread over a maximum of five stories. Due to the high building to land ratio, the lowest price per m² in the region can be achieved.
Detron, Unit4, Squerist, Alwaysbemobile Company and Van der Valk Hotels have already chosen Het Vizier Business Park for their expansion.
Location and accessibility

Het Vizier Business Park is strategically located in the Randstad, at a short distance to the west and close to Germany in the east. It lies on the A12 highway, between the A30 and A2/A27 junctions with direct connections to Utrecht/The Hague/Rotterdam and Arnhem/Germany.
The eastern side of the business park is connected to the provincial road N224. Accessibility via public transport is also excellent: the Dutch Railway station lsquo;De Klomp' is an intercity stop nearby offering connections to Utrecht and Arnhem, among other cities.
Het Vizier offers state-of-the-art infrastructure, including fiber-optic internet connection and an energy-efficient and environmentally friendly heating system that contributes to low CO2 emissions, a large parking space and hotel, restaurant, and catering facilities in the grounds.
More information:

Van Hardenbroek Beheer BV,

JJ Camminga,
Dijnselburgerlaan 7-9,
3705 LP Zeist, The Netherlands
T: +31 88 7070 250


+31 61 4915 950

Het Vizier Business Park

Veenendaal,
The Netherlands

Land offered:

Plots ranging from 1,500 m² to 30,000 m² on which over 170,000 m² of high-quality office and business space capacity can be realized (FSI: 5.5).
Price:

€150 per GFA excl. VAT
Amenities:

Park management, sustainable energy supply, fiber-optic internet, hotel facilities directly on business park.
Parking:

Parking spaces can be created in the basement and ground floor of each building. In addition the park has 350 extra allocated parking spaces on three parking islands.
Public transportation:

Train and bus
Location:

Voorpoort, Citadel and Bastion streets, The Batterijen, Veenendaal city, Utrecht Province