Please tell us a bit about Syntrus Achmea and its role in the Netherlands
With assets under management of almost €14 billion, we are the largest investment manager in real estate and mortgages in the Dutch market. We provide over 50 institutional clients with tailor-made products.
Syntrus Achmea Real Estate & Finance invests on behalf of institutional investors in all real estate sectors in the Netherlands, Europe, North America, and Asia. The strong position of the company is founded on high-quality real estate, combined with a stable and sustainable return. Furthermore, we provide mortgage investment products, which is a fast growing part of the company. This unique combination of local and international real estate as well as mortgage investment products, allows us to provide tailor-made solutions to all our clients and anticipate quickly on changing investment opportunities on a sector level.
What is Syntrus Achmea involved in at the moment and what are its future plans?
For the coming years, we would like retain our current clients and expand our platform internationally. First of all, we see a growing demand from our clients to invest outside the Netherlands in order to diversify their portfolios by country. We can do that via our funds but also through investing directly in cooperation with a local player. Therefore, we are interested in further expanding our cooperation agreements, partnerships and network internationally.
Secondly, we are also expanding our client base internationally. We see increased interest from foreign investors in Dutch real estate markets now market conditions are improving, particularly in residential assets, where valuations and the outlook for the sector have reached a "sweet point."
Finally, we also intend to further expand our property debt business and look into the possibility of launching some new real estate products. For these new products it is essential to select high quality assets which can be difficult in the current market where there is a lot of competition for these. It helps that we are such a large player in the Dutch market with investments in and knowledge of all sectors.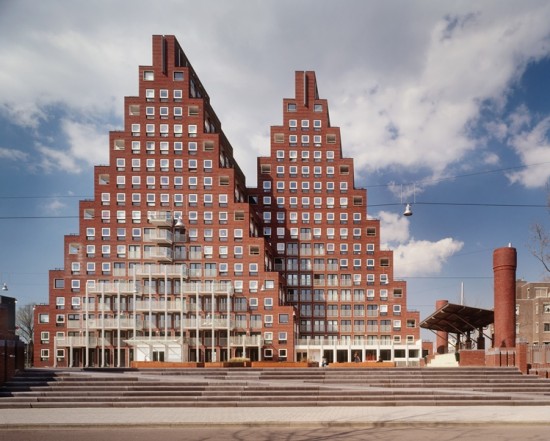 Residential Amsterdam Piramides©Syntrus Achmea
How would you describe the current state of the Dutch real estate market?
We see some overall improvements in the Dutch economy. Furthermore, the Dutch government made some changes in regulations and the residential investment market is especially benefiting from these. Transactions in this market are increasing fast as are prices in the main locations in the Netherlands.
Another interesting sector is healthcare. Just like the rest of Europe, the Netherlands is an ageing society and this will have a huge impact on the demand for assisted living. Up to 2030, the number of people aged above 75 will grow by around 600,000 households. Some of these older people need extensive care, meaning investment has to be made in existing properties.
In the commercial real estate investment market we also see some changes. It is essential to not only focus on changes in the value of individual properties, but also on the overall development of the area in which they are located.  By investing in the environment of the local neighborhood, it is possible to significantly boost the value of assets, and therefore cooperation between property owners is essential to further increase the quality of the area.
Finally, market interest in mortgage investments is growing fast in the Netherlands, especially for residential mortgages. With only small changes expected in interest rates and low and declining defaults on residential mortgages, this investment class remains very attractive. The number of mortgages under water are finally stabilizing and not increasing. Furthermore, lending on commercial property is rising, especially by alternative lenders.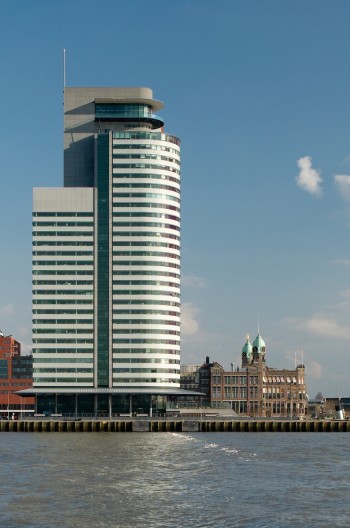 Rotterdam World Port Centre©Syntrus Achmea
How do Dutch cities compare with other European cities in terms of investment opportunities/potential?
Despite the relatively small size of the Netherlands, the investment market is fairly large. Due to the small area of the country, the four major cities Amsterdam, Rotterdam, The Hague, and Utrecht, can be seen as one vast metropolitan region known as the Randstad and comparable in size to other major European cities.  All of these cities within the Randstad have their own unique economic dynamics, which are important to understand. With excellent transparency, a healthy economy, and current high yields, the Netherlands is a very attractive market for real estate investors and earns its place in a multi-country diversified property portfolio.
In your opinion, which trends will dominate the real estate market in the next years?
We see two important trends: firstly, the growing importance of real assets in the portfolio of institutional investors. The stable high income flows and low risk that characterizes core real estate investments is of increasing importance for these investors, especially in an environment of low government bond yields and relatively high volatility in equities. Secondly, the increasing importance of regulation for institutional investors and fund managers, such as AIFMD and Solvency II, will have a growing impact on future investment decisions.