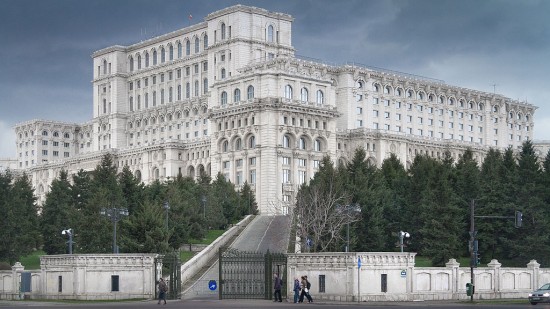 @Mihai Petre
ECONOMIC OUTLOOK

2013's economic growth is under constant revision. The latest forecasts issued by various financial institutions, including the National Institute of Statistics and analysts of the local commercial banks, place economic performance between 1.4 and 2.4%. The National Bank of Romania opted to cut the monetary policy rate from 5.25% to an historic low of 5%. It is likely that the bank will act again, perhaps in October if its projections for inflation are borne out. The bank is now more comfortable with the trajectory of the inflation rate and seeks to lower borrowing costs and build confidence in the economy in order to support the recovery that began to take hold in the first quarter of 2013.
INVESTMENT MARKET

The total investment volume recorded in the first half of 2013 is estimated at €62 million. The only significant transaction in the office section was the acquisition of The Lakeview by the AIM-listed fund, New Europe Property Investors. Several commercial real estate projects predominantly in the retail sector are in advanced stages of negotiation and other transactions are expected in the latter part of the year. Over the past few years, investors' interest has primarily been focused on prime end products, while secondary ones have remained illiquid. 2013 came with a shift from core products to more value-add opportunities.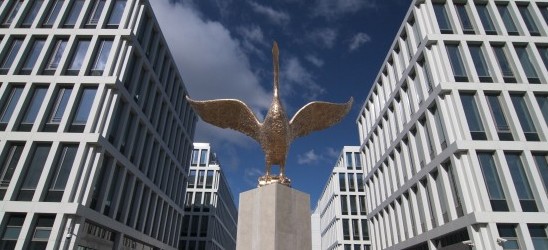 @Chayton Capital
OFFICE MARKET

With only two medium-sized office buildings completed in Q2 2013, totaling 7,800 m², the office supply completed in the first half of the year reached approximately 80,000 m². With these new completions, the modern office stock in Bucharest is estimated at 2.04 mln m², with class-A stock accounting for 51% of the total stock. The overall vacancy rate is estimated at 15.66%. In Q2 2013, total gross take-up reached 59,000 m² with new demand generating 49% of the quarter leasing activity and 35% represented by lease renewals. Take-up is forecasted to remain at the level recorded in the last couple of years but, with an increased weight of pre-leases in the yearly gross leasing activity. Prime headline rent remained unchanged over the last 12 months at 18.5€/m²/month (since Q3 2012).
RETAIL MARKET

The modern shopping center stock is estimated at 850,000 m² in Bucharest. The most notable opening this year is Promenada Mall with a GLA of 35,000 m² which is set to open in October 2013. Three retail schemes re-emerged on the Bucharest retail market, but with no clear dates regarding the opening or the commencement of construction works: ParkLake Plaza (est. GLA of 63,000 m²), Mega Mall (est. GLA of 60,000 m²) and Victoria City Lifestyle (est. GLA of 35,000 m²). The retail pipeline for 2013 and 2014 is estimated at around 60,000 m² consisting of Promenada Mall and Vulcan Value Center. The most notable retail transaction for Q2 2013 was the takeover of Bricostore by UK-based Kingfisher Group. In the luxury retail sector, Roberto Cavalli opened its flagship store in the shopping gallery attached to the JW Marriott five-star hotel. Rent for both prime shopping centers and prime high-street units remains at €55-65/m²/month.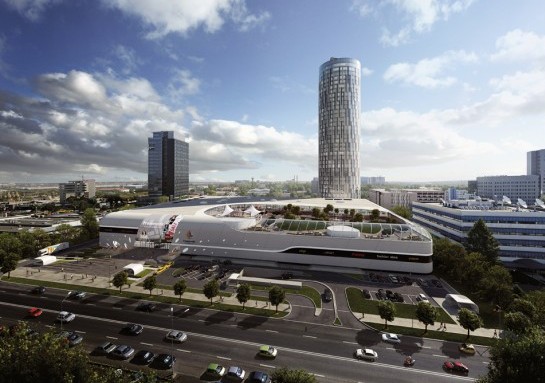 @Raiffeisen Evolution
INDUSTRIAL/LOGISTICS MARKET

Romania is increasing in importance as a manufacturing hub, especially attracting automotive related foreign direct investments. In Q2 2013, gross take-up in Romania totaled approximately 52,000 m². Bucharest's gross take-up is estimated at 14,500 m². In Q1 2013, gross industrial take-up activity in Romania registered a record level of 145,000 m², almost four times higher compared with the same period of last year (estimated at 35,000 m²). The most active cities were Bucharest which attracted close to 55% of the Q1 2013 gross industrial activity followed by Oradea (18.5%) and Timisoara (17.5%). Rents for prime distribution facilities are estimated at €3.8 to 4/m²/month. Rents for prime light industrial facilities are quoted between €3.5 and 4.25/m²/month. Larger distribution units (exceeding 20,000 m2) record rents as low as €3.5 to 3.75/m²/month.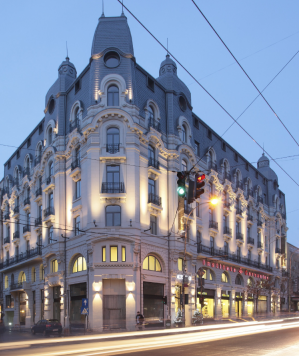 Cismigiu Hotel@Cismigiu Hotel
HOTEL MARKET

In June 2013, Bucharest's graded hotel market consisted of 77 hotels with about 9,500 hotel rooms. This sector is highly corporate-led and is therefore well supported by four-star hotels, which account for 60% of the entire hotel room stock. The five-star segment constitutes 22% and the three-star segment 18% of the total room stock supply. Three upscale hotels entered the market in 2012: the four-star 90-room Europa Royal Bucharest, the four-star 60-room Hotel Cismigiu and the five-star 63-room Marshall Garden Hotel. In terms of future hotel developments, Marriott International plans to open its second hotel in Bucharest, the 147- room Courtyard by Marriott Bucharest. This new hotel will be located in the city center and is expected to open in Q1 2015.