Asian investment in European property reached unprecedented levels at the end of 2017, almost double the previous year exceeding €25.5bn, according to international real estate advisor Savills. Chinese investment in Europe peaked in 2017 at almost €9.5bn, up from the €2.7bn five-year average. Very dynamic were also investors from Hong Kong (€6.5bn, 254% yoy), Singapore (€4.2bn, 12% yoy), Republic of Korea (South Korea) (€2.1bn, 71% yoy) and Malaysia (€0.7bn, 180% yoy).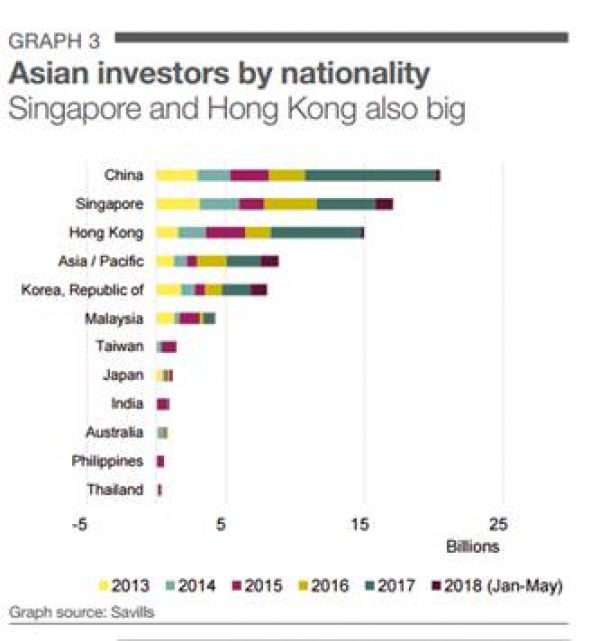 While Chinese investment has slowed down in H1 2018 (from 37% in 2017 to 7% up to May), following the Chinese government's restrictions to non-strategic outbound investments, other Asian investors are increasing their investment volume in Europe. South Korea's share of total Asian investment in Europe over the first five months of the year increased from 8% to 25% in 2017 (full year), and Singapore increased from 17% to 27%. Korean investors, in particular, are showing greater flexibility in their investment strategies considering new locations and new sectors across Europe.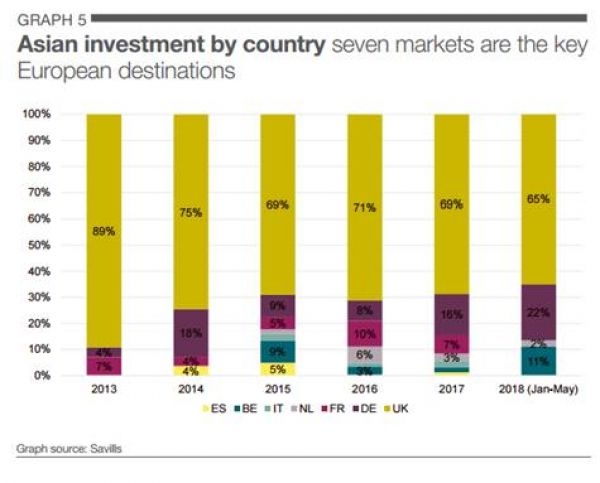 Over 95% of Asian real estate investment in Europe is directed towards seven key markets: the UK, Germany, France, The Netherlands, Italy, Belgium and France. Until last year, the UK captured on average about 76% of the market share, followed by Germany at 11%. In the first five months of 2018, the share of the UK investments dropped to 65% while Germany rose to 22% and Belgium to 11%.
Eri Mitsostergiou, director in Savills research team, says: "We are seeing two key trends in Europe with regards to Asian investors: the UK remains the destination of choice but Germany and the Belgium market, in particular, have increased their market share significantly. We believe that France and The Netherlands should also pick up during the remainder of the year. The second trend we are seeing is that while some nationalities such as the Chinese are investing less, others have already outperformed H1 2017 by May 2018 including India (€111m, 157% compared to H1 2017), Japan (€185m,12%) and most notably the Republic of Korea (7%), with a total volume of €1.18bn invested between January and May 2018."
Marcus Lemli, head of Savills European investment, adds: "We believe that Europe remains an attractive investment proposition for Asian investors, supported by expanding economy, low unemployment and healthy occupier demand for both traditional and alternative building uses. We anticipate the slowdown of Chinese inflows to be counterbalanced by more diversity in terms of a source of capital and more geographical diversification in terms of investment targets, given the right opportunities."