According to JLL, the vacancy rate in main Moscow high-street corridors declined by 0.6 pp to 9.6% in Q4 2016. Kamergersky Lane, Myasnitskaya and Arbat Streets remained the leaders, with vacancies at 4.0%, 5.6% and 7.1% respectively.
The better occupied streets are those with dominance of restaurants and cafés. An absolute leader is Kamergersky Lane, with restaurants representing 84% of all tenants, followed by Myasnitskaya Street, with a restaurants share of 40%.
"Restaurants and cafes are traditional street retail market players, as central locations offer high traffic. In Q4, the average share of this retailer category was 32%, they are also the most active bidders in new leases, with 28%." – Natalia Ozernaya, Deputy Head of Street Retail in Moscow, JLL, Russia & CIS, says. – "Notwithstanding the challenging economic conditions, restaurants continued to expand last year. They made many new openings, both in discount and premium segments."

Tenants Breakdown by Segment on Main Moscow Retail Streets by the end of 2016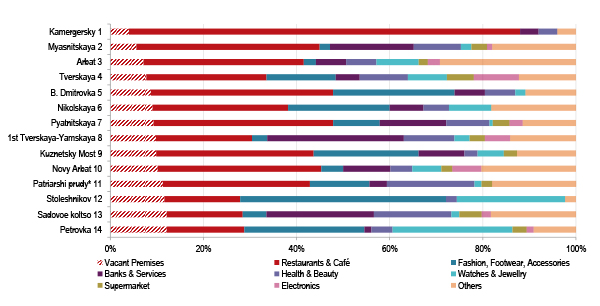 *Central part of the Patriarshi Prudy area[1] Source: JLL
"In 2016, the presence of Banks & Services tenants on main retail corridors declined from 17.1% in Q1 to 13.6% in Q4. Interest from banks also declined, supported by the Central Bank policy on cleaning up the financial sector." – Ekaterina Andreeva, Retail and Investment Markets Analyst, JLL, Russia & CIS, notes. – "We observed a growing interest of fashion-operators in street retail premises. The most attractive locations for them are the central ones, near the Kremlin. We expect further decline in the vacancy rate in street retail premises in 2017, supported by new openings of fashion stores."

Demand Dynamics in Moscow High Street Retail, 2016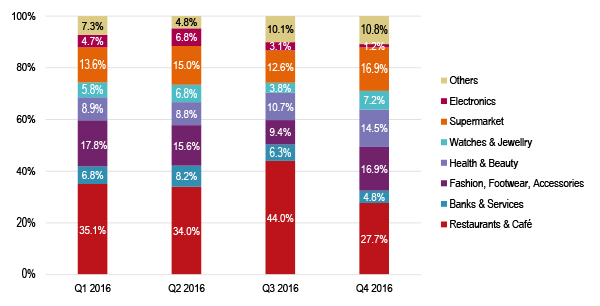 Source: JLL
Rotation on main Moscow retail corridors decreased slightly in Q4, by 2 ppt to 6%. The largest share of new tenants appeared on 1st Tverskaya-Yamskaya (13%), Bolshaya Dmitrovka streets (11%) and Patriarshi Prudy district (10%). The most notable openings include a confectionary store Rot Front on 1st Tverskaya-Yamskaya Street; Lumas photo gallery, Krasnodar restaurant and Barbershop by Timati on B. Dmitrovka Street; the perfume store Molecule appeared on Spiridonyevsky Lane.
Average rents were stable on the Moscow street retail market throughout last year, with prime rent at RUB250,000 per m² [2] In Q4, slight rental growth was observed on Novy Arbat (to RUB115,000 per m² per year) and Tverskaya (to RUB105,000) streets.
"This dynamics was driven by a reconstruction of these streets in summer of 2016. As a result, we saw an increase in tenant demand. The same situation was observed on Kuznetsky Most Street after its renewal in 2015. The premises became highly demanded by fashion retailers and restaurants," – Natalia Ozernaya adds. – "Once the most attractive premises on Kuznetsky Most are occupied, fashion operators will re-focus on Tverskaya Street. We expect further decline in the vacancy rate on this street."
[1] We divided the Patriarshi prudy area into two parts: the central part is between Yermolayevsky Lane, Maly Patriarshy Lane, Spiridonyevsky Lane and Malaya Bronnaya Street, and the expanded area is up to Trekhprudny Lane and Bolshaya Bronnaya Street.
[2] Rents are given for premises of 100-300 sq m with a separate entrance and a showcase on the first floor inside the Third Ring Road.