Commercial property consultants CBRE Ireland today released statistics on the volume and value of pub sales in the Dublin market in 2016, showing that a total of 30 pub properties, totalling more than €43m between them sold in the Irish capital during the last year. This compares to €40m in 35 pub sales in Dublin the previous year.
Dublin Pub Sales 2010 – 2016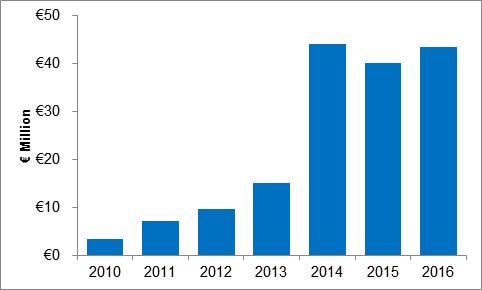 Source: CBRE Research Ireland
According to John Ryan from the Hotel & Licensed Department at CBRE Ireland, "The number of Dublin pub properties changing hands in 2016 was down on the previous year, with 30 Dublin pubs having sold last year compared to 35 in 2015. Conversely, an improvement in trading conditions in Dublin is reducing the number of licensed properties that are being offered to the market for sale. There are now fewer instances of distressed sales in this sector of the market with a notable increase in the number of consensual pub sales over the last 12 month period in particular. While the total capital value of the Dublin pub market has remained relatively stable over the last few years, the average price achieved for Dublin pubs has continued to trend upwards. The average sale price is expected to increase further in 2017 considering that trading conditions in this sector continue to show signs of improvement".
Some notable Dublin pub properties that sold in the last 12 months include Kennedy's on Westland Row in Dublin 2, Kennedy's in Drumcondra, Dublin 9 and Howl at the Moon on Mount Street in Dublin 2.