Every year international brand manufacturers evaluate the economic success of their stores in more than 150 outlet centres in Europe. The results are included in a ranking, which shows the economically most successful outlet centres. This year "Outlet Centre Performance Report Europe 2017" by ecostra and Magdus features a portfolio of approx. 120 brands, all of which have at least 3 points of sale in difference centres across Europe.
For the third time in a row and for the fifth time since the "Outlet Centre Performance Report Europe" OCPRE was launched in 2009, the McArthurGlen Center in Roermond, the Netherlands, has been awarded to be the economically most successful outlet centre in Europe from a tenant's point of view. It was also recognized for the best gastronomic offer.
The second and third places in the ranking went to Value Retail's La Vallee Village in Serris, France, located in a close proximity to the Disneyland Leisure Park in the east of Paris, and the Outlet Center Bicester Village in the United Kingdom, which is also close to major tourist destinations such as Stonehenge and Oxford.
This year is also marked by a noteworthy debut of two Russian centres. Both Vnukowo Outlet Center in Moscow and Pulkovo Outlet Village in St. Petersburg made it in the European Top 10 and share the 9th place in the ranking. The Outlet City Metzingen, south of Stuttgart, which took 8th place, is the best German centre in Europe.
At the bottom of the ranking is Cilento Outlet Village in Eboli, Italy with the worst performance from a tenant's point of view. McArthurGlen Luxembourg in Messancy, Belgium, hasn't managed to work its way up and follows right after.
Overall, the surveyed brands still maintain that their stores in outlet centres are considerably more profitable than shops in the inner-city high-streets. The locations in the outlet centres also continue to show a better economic performance than their own online stores. As a result, on average, the surveyed companies said they would like to open 3 more stores in the outlets in 2018, with four brands setting themselves a target of ten new units.
Germany continues to be the most desirable location for retail expansion: more than 57% of all brands look for new outlet locations in Germany, with only 37% considering France and 23% viewing UK the as their top option.
For the first time, the surveyed companies also had an opportunity to name the brand that is most preferred as a neighbour to the own store in an outlet centre. Polo Ralph Lauren received by far the most nominations with 34.5%, followed by Nike (24.1%) and Tommy Hilfiger (17.2%). Based on the results of the survey it became clear that the brands were looking for proximity to similar suppliers, i.e. sports brands were keen to be neighbours to other sports brands and manufacturers of household goods were looking to be close to other household goods suppliers.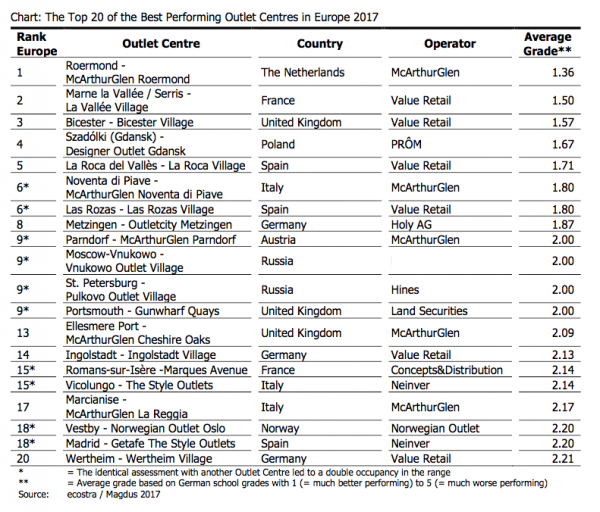 FOR THE FULL STORY PLEASE SEE: