The first step of renovation is the inventory of the non-operational state of a building. A 'traditional' renovation process would start with updating the existing design documents (structure, services and components) and the building's performance specifications. This is fundamental but very time consuming, expensive and often prone to human errors. The updating is done using available facility management data, former design documents and site visits. The construction process can engage inconsistencies, failure costs and re-design time if the inventory was not correct.
It is also likely that after completion of the works, the existing drawings no longer comply with the renovated project. The information used during traditional renovation is fragmented and not compliant nor adapted to facility management workflow and data requirements. Thus, it is necessary to translate the newly updated information in order for it to comply with the building's new operational state.
Deerns laser scanning imaging and BIM
The innovation with huge efficiency potential consists of four main stages. All these can be used separately, depending on the developer's expectations and type of project.


1. 3D laser scanning
It all starts at the inventory stage: a small camera produces a 3D laser scanning of the site that will be renovated. These 3D images show the current state of the building, identify issues and provide the client with full understanding of the severity of the situation: volumes, risks and components.
1. Full 3D representation
Subsequently, a 'Point Cloud' model is converted into a 3D building representation, using the images taken and their relative position. The result is 3D objects (with REVIT for instance) representing the building; the 3D image visualisation becomes a virtual representation of the components of the building, and a valuable communication tool, more informative and dynamic.


3. The BIM model
The BIM implies adding interactive 'information blocks', attachment points that store data to the building's components or its systems. When you attach them to the elements in the model, it creates the possibility to insert information from facility management, and automatically calculate the value of the current 'operational state'.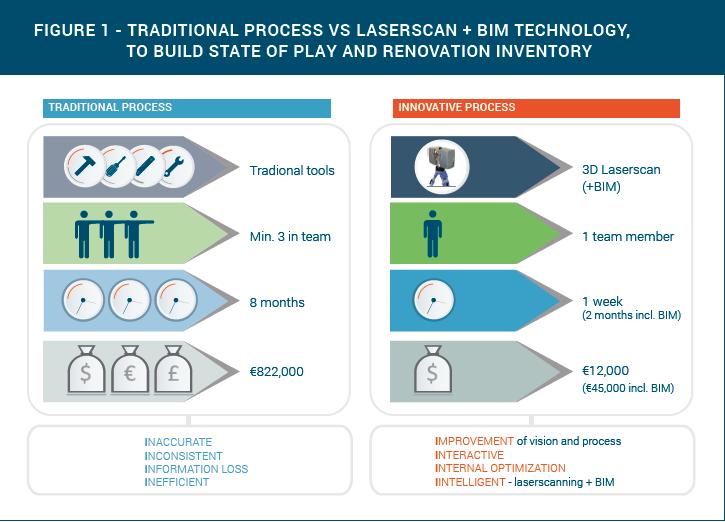 The full article is in the Europe Real Estate 2015 reference book. Purchase the book in the webshop.
About Deerns
Created in 1928, Deerns is a multi-disciplinary consulting engineering firm that provides expert design services regarding MEP systems, Sustainability, Energy Supply, BIM, Smart Utility Networks and Master Planning. Deerns designs the technical and technological infrastructure of buildings and related facilities, from the first concept to detailed design and construction management. With 22 offices worldwide, Deerns designs all types of buildings: offices, retail, data centers, residential, hotels, hospitals, clean technology and airports. Deerns combines sustainable and innovative concepts with reliable and practical implementation, helping clients to build comfortable, safe and sustainable living environments. https://www.deerns.com/