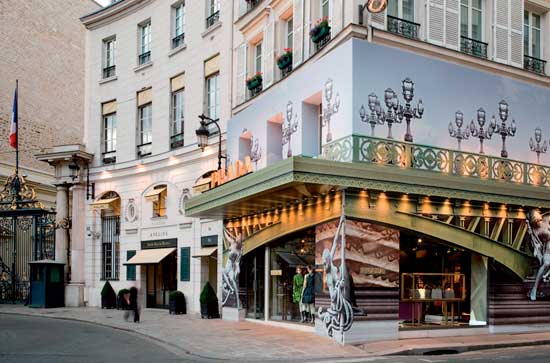 Pop-up retailing adds the physicalities that online retail cannot                                                           Image: PRADA
E-commerce continues to expand immensely; the Internet is expected to reach three billion users by the end of 2014, but irrespective of differing attitudes, consumer behavior and the ever-growing popularity to shop online, consumers continue to be attracted to the humanization of physical retailing. Therefore, shopping centers and high streets must focus their full attention on maximizing customer shopping experience–an element missing in e-commerce.
Pop-up retail is perfect for arousing attention and reaction by creating a buzz-effect with new products, services, or new retail spaces, to entice excitement and a sense of exclusivity for customers–pop-up retailing is perfect for this. Once considered an experimental merchandising method for adventurous retailers and cash-strapped entrepreneurs, but now, pop-up shops have become an established retailing phenomenon; as well as a legitimate instrument for product experimentation, generating buzz, constructing brand awareness, and driving sales for brand-name retailers and ambitious start-ups. It is an effective marketing strategy that adds the physicality  that online retail cannot provide, bridging the gap between e-commerce and brand experience.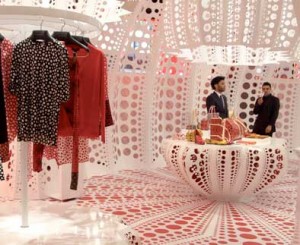 Temporary shops have become an established retailing phenomenon
Temporary retailing is also growing more and more due to the importance of social media, apps and face-to-face communication between retailer and customer, which remains unrivaled. The beauty of pop-up retailing is its sheer flexibility. If tactfully placed and presented, these often small and temporary retail hubs can be an extremely effective way of exposing a product or company to their target markets.
What can pop-up retailing do for retailers?
Temporary retailing is a €6 billion a year industry which grew by 16% between 2009 and 2012, with business to customer e-commerce amounting to just under €1 trillion in 2013, which is expected to increase substantially by the end of 2014.
Examples of highly successful and innovative recent pop-up retailing
• illy –
created an unfolding crate to reveal a cozy and welcoming house.
• Daisy by Marc Jacobs –
created a 'Tweet Shop' where online met retail, in August 2014. Transactions were based solely on a customer's use of Twitter, using the hashtag #MJDaisyChain. It boasted free wifi, Daisy-themed artwork by Langley Fox, a Marc Jacobs nail bar, a photo booth, comfortable surroundings, an all-round social media-friendly vibe, as well as all Marc Jacobs products.
• Louis Vuitton –
demonstrate more exclusive pop-up shops, further increasing the buzz factor. Their pop-up décor reflect the certain product line's appearance in an art/gallery style format.
• Prada –
o
pened a pop-up in Paris recently which featured life-sized posters of one of Paris' most famous bridges, making it feel like you were passing it to enter the pop-up. Prada's use of local focal point imagery, also promotes local beautiful attractions.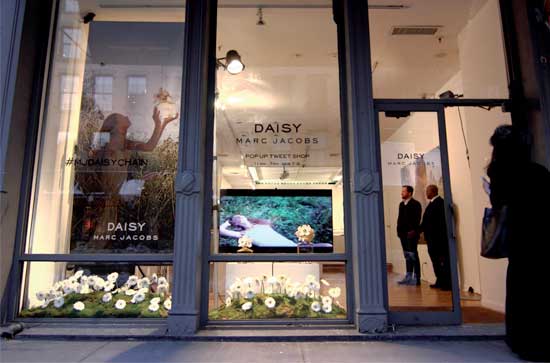 An extremely effective way of exposing a product to a target market
They are useful in promoting something offline during a short peak in demand, and are perfect for seasonal exposure, promoting local produce, buzz generating, event orientation, as well as an effective marketing tool for crossing all media platforms; while achieving extra exposure and developing customer-retailer relationships. Pop-up shops are positively decrease the risks associated with long-term renting and have been developing and evolving for nearly two decades, and will continue to do so for as long as technology and trends follow suit.
How do I set one up?
If you're looking to start up your own pop-up, there are companies like
BrandSpots
who can arrange everything for the retailer or brand and property manager. Factors that will significantly contribute to the success of your pop-up shop are:
• Location
– the right place will enhance a business' desirability, while targeting a specific audience. It can attract the attention of other target markets in an exposed location with an eye-catching and enticing shop front. If a business is relatively small or just starting up, customers are becoming more attracted to locally sources products, which in turn then promotes local areas; this provides great temptation to customers as it is appealing to support a local community.
• Concept –
the aim is to excite and motivate the customer; the pop-up atmosphere must be electric, tempting and sociable. The use of integrated technological retailing, like the use of in-store mobile devices–tablets and smartphones–further engages customer consciousness in this inter-activity. Taking payments and demonstrating and offering more information on products, further promotes one-to-one retailing. Lighting, décor, and choosing the correct colors are key in creating a lasting first impression. There is also more desire for customers to have personalized in-store experiences, with personalized products, as this creates the feeling of exclusivity and specialty.
• Marketing –
it is essential to create a large amount of buzz surrounding the launch of a pop-up and advertise through popular channels. Social media is vital and can help create excitement and intrigue. Secret or invite-only pop-up shops can produce an enormous amount of excitement and desire from those invited, as well as from those not invited. A retailer can encourage further social sharing by, for example, selling products at a discounted price, as long as customers share their experiences through a social media platform and peak the curiosity of future customers/visitors. Some companies even promote social sharing before the customer has entered the pop-up, by encouraging customers to share in order to find out the location of a brand's next pop-up.
To see the full article in Retail Space Europe 2015 reference purchase the book in the
webshop
Written by
Europe Real Estate