Light has a great influence on impulse buying and can be used to influence consumers, either consciously or unconsciously. In sensorial marketing, light is one of the most important factors in the purchase experience. The buyer's emotions, rather than reasons need to be appealed to; emotional links are much stronger and more stable, and are responsible for customer loyalty. Light influences product choice; it improves the perception of the space, creating more attractive, comfortable, fresher atmospheres. It can affect appetite and even price perception–consumers are ready to pay more for a product with a better appearance.
Let there be light
Lighting manufacturers are nowadays providing end-to-end services encompassing lighting design, specification and financing support, as well as supply, fit, and maintenance. They need to create dramatic, almost theatrical effects increasingly more, to appeal to potential customers. CMH Precise™ lamps, an innovation GE Lighting are embracing, have been designed to fulfill this purpose.
Upgrading to LED can save up to 40-70%, with significantly lower carbon emissions and ongoing lower energy costs. The switch is a robust, immediate but also long-term solution–across the UK, this would save £220 million each year in energy costs. The trend of incorporating LEDs is surely to develop in the future. Many retailers aim to reduce energy use by 2020 in line with government targets–with lighting representing on average 20-40% of a store's energy usage, the pressure to act is starting to mount.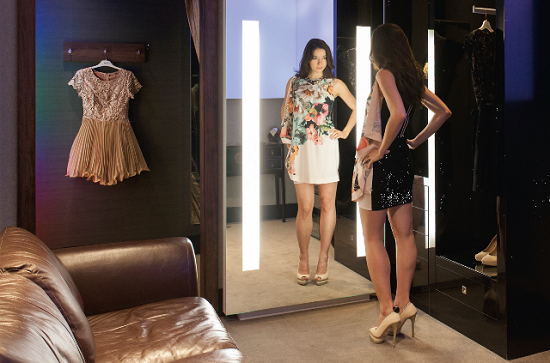 @Philips Lighting
Sustainable lighting decorations with meaning
LEDs offer a brilliant range of multi-color possibilities that, in the hands of professional lighting specialists, result in flexible, highly luminescent, attractive concepts. The modern, high-quality LED has a far longer life than a conventional globe and uses 80% less energy. Shopping centers have much to gain by allowing design specialists to create meaningful decorations, which can take up a theme or story, and can send a positive and provocative message carrier.
In South Africa, a stunning motif of rhinoceros, one of the classic 'big five' South African animal species, has been developed by MK Illuminations for the Nelson Mandela Square Shopping Center in Johannesburg. The big attraction in the shopping center, the Rhino, was also designed to highlight one of the continent's most endangered species.
The 'Find and Save the Rhino' competition, allowed visitors to speculate where the Rhino might be in the shopping center via SMS, and then try to locate it. Part of the SMS revenue was donated to the Wildlands Conservation Trust Project Rhino. The project is an excellent example of how to engage in a social project that can enhance the reputation of a company and increase communication possibilities. Engaging in sustainable decoration opens up multiple opportunities to bond consumer loyalty as well as increase customer traffic and profit.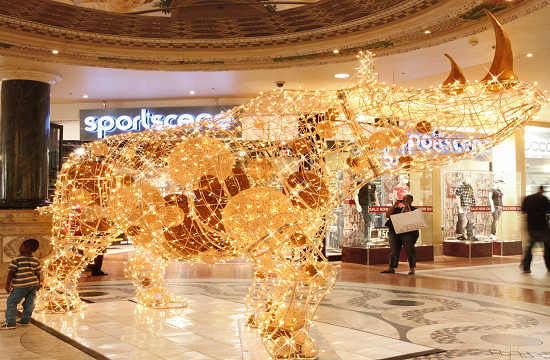 @MK Illumination
An inspired solution
LEDs are fast becoming the dominant lighting choice in business markets, due to their effective combination of low cost and high output. The use of LEDs is spreading to building exteriors; take for instance Flame Towers, a mixed-use complex in Azerbaijan's capital city Baku, fitted with over 10,000 high-power sustainable luminaries by Traxon Technologies of OSRAM.
The extremely impressive and eye-catching three Flame Towers, display the movement of fire. They were inspired by the region's history of fire worship and outline a high-tech oriented, modern capital city, while continuing to embrace its history.
A new dimension to personal shopping
When the lighting in department store fitting rooms proves stark or inadequate, the customer has little idea of how their new clothes will look in reality. In an innovative partnership with Philips, retail chain House of Fraser has addressed this issue, by creating three brand new changing areas in its London's Oxford Street branch. Each individual zone has its own features, however the common theme in all three is that the customer controls the lighting, and is able to see their chosen item of clothing illuminated in a number of different ways.
These were inspired by the fact that customers want to see themselves in a flattering light, without shadows, but also to have a realistic impression of how the outfit will look. LEDs allow the manipulation of color and the intensity of light to reflect a range of different scenarios. In the new-age fitting rooms, the customers used a simple touch-screen panel, which enabled them to see how clothes would look at different times of the day or in different seasons.
House of Fraser's Head of Design, Phil Looker, commented: "The customer can actually feel that they're not in an enclosed space. We then link this to the scene-changing mirrors that will add different options of light so that people can really understand what that product will look like in different environments."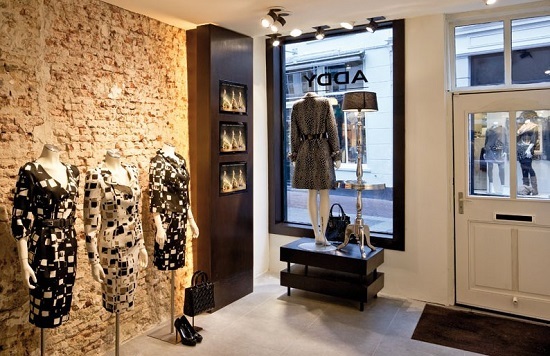 @Philips Lighting
Testing the user experience
The new fitting rooms had a positive effect generally, as 31% of shoppers said they had a greater propensity to buy in the new fitting rooms, among those who had used the lighting options, this figure rose to 56%. Tim Hyde, the Store Manager at the Oxford Street flagship: "Our customers are telling us about their expectations of shops on the high-street. From the feedback that we've had, the Philips lighting that we put in our fitting rooms helps to deliver that great environment and also the great service they're looking for."
Lighting has enabled retailers to make their shopping destinations more appealing. LEDs deliver an extremely directional light and incorporating the luminaires with a reduced size delivers on two fronts: lowering the capital expenditure, while simultaneously boosting the energy savings. LEDs have certainly shaken up conventional thinking when it comes to lighting design and while they may not have completely displaced traditional light sources just yet, the ever-expanding scope of LED technology means the future is bright for retail lighting.
By Europe Real Estate