There's a shake-up happening and shopping centres are embracing innovative initiatives in order to stay relevant to the fast-changing consumer. Among these initiatives, pop-ups, which offer personalised experiences for a limited time only, are increasingly on shopping centre operators must-have lists.
Around the developed world, consumers are losing their appetite for more goods. Steve Howard, head of Ikea's sustainability unit, announced at a 2016 Guardian Sustainable Business debate, "In the west, we have probably hit peak stuff. We talk about peak oil. I'd say we've hit peak red meat, peak sugar, peak stuff… peak home furnishings."
Meanwhile, shopping centre development activity has been motivated by the need to meet consumer demand for larger centres offering a greater diversity of retailers, an array of leisure activities and a wider choice of food and drink offerings, according to research by Cushman & Wakefield. This might sound like a contradiction to the aforementioned consumers' decreased desire for buying goods. However, consider that leisure activities enhance wellbeing; while dining destinations encourage downtime and connectedness. Indeed, Westfield, which operates 34 shopping centres worldwide, has revealed that it is increasingly dedicating more space to leisure, dining, events and entertainment to meet the growing needs from customers. These offerings reflect a marked shift from goods consumption to experientialism; we would rather spend money on experiences than on things. Among the diverse retailers, are pop-ups – with their experiential and lifestyle focus – are now a vital part of the mix.
"We're noticing a sharp increase in interest from shopping centres across Europe, who want to include innovative pop-up solutions as an integral part of their retail strategy," revealed Ilona Taillade, chief creative officer of media agency BrandSpots and chief marketing officer of pop-up platform We Are Pop Up. "Pop-ups create a FOMO [fear of missing out] effect due to their temporary nature. This is further enhanced by the innovative focus of a well-designed pop-up, which tells a story and creates an unexpected, memorable experience."
Multi, which owns or manages more than 90 shopping centres across Europe and Turkey, was one of the first shopping centre operators to include pop-ups as part of their retail strategy, telling the story of an elephant conservation with the launch of the first worldwide pop-up, Elephant Parade in Antwerp, Belgium, 2008. "You should always have a story to tell – and every day we need to write a new chapter," Steven Bervoets, general shopping manager for Shopping Stadsfeestzaa (a Multi shopping centre, Antwerp), enthused. "The biggest challenge for shopping centres today is to not become a boring collection of bricks containing tenants."
Lifestyle destinations
The rise in pop-ups is, arguably, also a reflection that shopping centres are becoming one-stop lifestyle destinations. Different shopping centres provide various community facilities in the form of leisure activities and dining options, while pop-up shops refresh the shopping centre mix and inject vitality into the retail scene. Westfield has long included pop-ups at the heart of their retail strategy for this reason. "Pop-ups complement our retail mix and ensure that every time a customer visits, we can provide a new experience," Myf Ryan, chief marketing officer of Westfield Europe, said.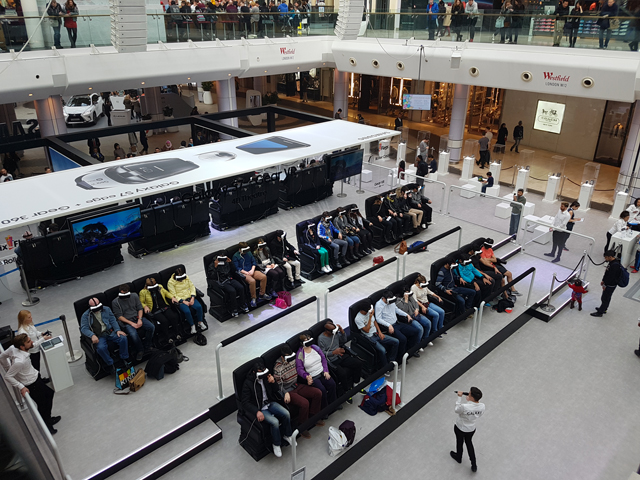 Technology in retail
Shopping centres are well aware that they need to stay relevant to the switched-on consumer. "The consumer has never been so informed or interpreted messages so quickly," Juan Martinez, BrandSpots' concept developer, said. "This means that brands and retailers have to focus even more on the customer experience." Pop-ups provide the perfect opportunity to show-off new technologies that are integrated into a bespoke experience, whether it's Samsung's Galaxy Studio, which offered giveaways personalised photo badges with the Gear 360; and the opportunity to escape reality with 360 video and 4D motion at Westfield London or the showcasing of Jaguar at intu Trafford Centre, which linked the F-PACE SUV to an augmented reality screen, adding digital content into the experience which shoppers could upload to social media.
FOR THE FULL STORY PLEASE SEE: Retail Space Europe 2017
Written by
Lucy Land
H/O Damrak 357 1012 ZJ, Amsterdam The Netherlands T: +31 (0) 20 655 88 55
www.brandspots.com