Outlet center definition:
Outlet Centers (FOCs) are agglomerations of several outlet store units within a mutually-planned or a spatially-interrelated complex of buildings with more than 5,000 m² sales area (= approx. 6,000 m² GLA) or with more than 20 outlet stores. Through FOCs, manufacturers and vertically-integrated retailers sell past seasons, factory seconds, surplus stock etc. directly to the consumer, without using retail businesses as distributive channels. All goods are sold at a discount of at least 25%, whereas dual pricing ("High Street Price" / "Outlet Price") is prescribed in the leasing contract. The coordination, organization and marketing is carried out by central management.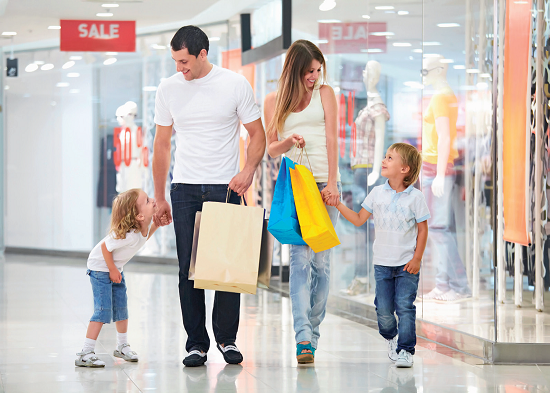 ©Luckyimages,2014 Used Under License from Shutterstock.vom
A break through in the German market
The annual evaluation carried out by ecostra in 2012, highlights the fact that outlet centers finally had their break-through in the German market. With new openings in Soltau, Ochtrup, and Neumünster, there are now professionally designed and operated factory outlet centers throughout the country. Germany, after years of stagnation, has recently shown a strong growth both in number of sites and outlet floor space. This development is likely to continue.
High demand for space from brand manufactures
This development is driven not only by international operators and investors who are looking for promising locations and investment opportunities. Cities and municipalities push in the same direction as they strive to improve their position in the inter-municipal competition as shopping destinations, hoping to increase local tax revenues and the number of jobs. Another major driving force is the international brand manufacturer's high demand for outlets. About two-thirds of the international brands questioned by ecostra for the yearly study 'Factory Outlet Centre Performance Report Europe' want to lease outlet stores in Germany. One in four of the surveyed brands is looking for retail space in France and one in five in Italy.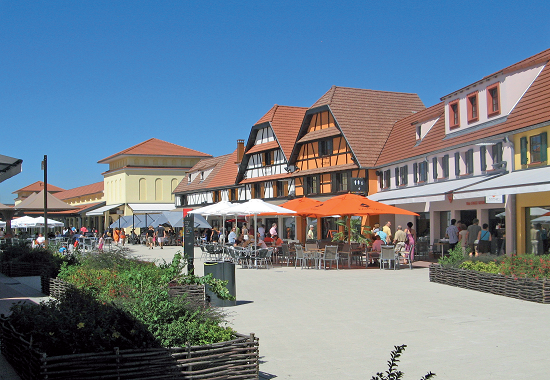 ©Ecostra
About 20 foutball fields of additional outlet space yearly
According to ecostra's research, there is a total of 158 outlet centers trading in European countries currently. The total retail sales area of these centers amounts to 2.5 million m². On average, over the last 11 years the number of outlet centers has increased annually by 7.3 sites, and the sales area has grown by around 140,000 m².
Liberal approval practice
In Germany it seems to be as difficult to get a building license for an outlet center as for an atomic plant, the conditions are much more favorable for developers in other European countries. Italy is a prime example for this, as the number of outlet sites has increased rapidly from 4-24 centers in the last 10 years, with a retail area of approximately 490,570 m².
France has also expanded to a total of 20 centers with a total retail area of around 308,835 m². The development in Slovakia is quite remarkable; two developers are currently competing, with one center opened last year and the other one with construction work well ahead.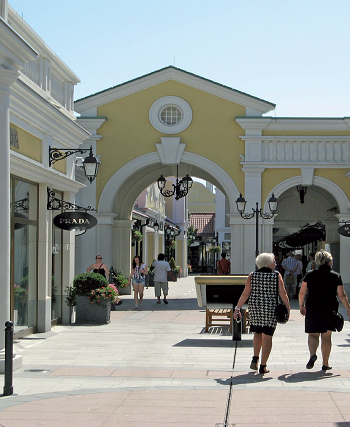 ©Ecostra
FOC bankruptcies and high-yield opportunities
Ecostra's research demonstrates that outlet centers are not always a safe bet. So far, we were able to identify a total number of 24 failed outlet centers in Europe, which closed doors due to poor performance or were never even opened, despite completed construction. Based on the current total number of 158 such centers in Europe, the rate of failure is around 15%.
On the other hand, above-average yields make many outlet centers very attractive. As one of the best performing centers in Europe, Bicester Village, developed and managed by Value Retail nearby Oxford, reaches–according the annual report of its owners–a floor productivity of more than 30,000,- €/m².
It is hard to find a shopping center with an even remotely comparable performance. However, this is a solitary peak result and even among outlet centers, an absolute exception.
The full article is in Retail Space Europe 2015 reference book. Purchase the book in the
webshop
About Ecostra GmbH
ecostra GmbH is one of the leading management consultancies for real estate business and retail trade. Consulting services include the optimization of existing branch networks of retail companies, site assessments and expansion planning as well as feasibility and profitability studies for project developers, financial service providers and investors. Ecostra also compiles utilization concepts for shopping centers, and analyzes the risks and opportunities, e.g., of a possible center relaunch.