According to leading global real estate advisor CBRE, 11.1 million m² of new shopping centre space is currently under construction across Europe, the Middle East and Africa (EMEA). Turkey, United Arab Emirates (UAE) and Russia are the most active countries in terms of shopping centre development and accounted for more than 50% of total development under construction in 2017.
Across Europe, the Eastern European countries are the most active shopping centre development markets, with Russia, Poland and Ukraine all showing strong development pipelines. Russia's development pipeline currently stands at 1.9 million m² and this is largely due to improving macroeconomic fundamentals coupled with strong forecasted retail sales which are starting to improve developer sentiment.
 

  Westfield Shopping Centre (Stratford) in London, the UK
Katarína Brydone, Head of Retail at CBRE: "New developments in Europe are slowing as the market has already reached optimum saturation rates in terms of the purchasing power of the population. If we consider CZ, there is not enough room for new big development, except for in Prague. As a result, contemporary developers and owners of shopping centres are focused primarily on the possibility of expanding existing well-functioning shopping centres. However, due to the old stock and the limited new construction, redeveloping existing shopping centres has remained the leading trend."
The UK has the largest shopping centre development pipeline in Western Europe with a total of 460,000 m² of new space under construction and due be delivered over the next five years. France has the second largest shopping centre pipeline with 409,000 m² and Spain is slightly behind with 345,000 m². Spain's economic recovery is improving asset performance and investor and developer sentiment.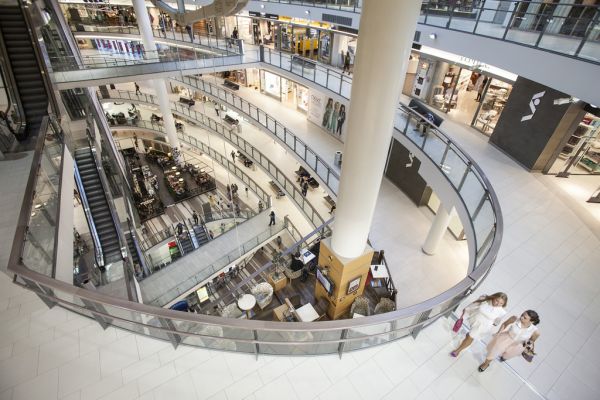 Nevsky Shopping Centre in St.Petesburg, Russia
Extensions to existing shopping centres continue to be a popular route to achieving additional floor space, especially in Western European markets. Extensions made up 20% of shopping centre stock in EMEA with the UK, Ireland and Austria all showing sizable extension pipelines. The UK has one of the largest shopping centre extension pipelines in Europe with Westfield London making up 69,000 m².
Katarína Brydone adds: "Eastern markets are less saturated, and Ukraine, for example, is not in the CEE, which is why the percentage of new construction is so high. But let's not underestimate their purchasing power. Generally, the retail spending of Eastern European countries is more dynamic than the rest of Europe, which corresponds to the economy – we mustn't forget that these countries are fundamentally very different from the countries in Western Europe in terms of Retail spend per capita."