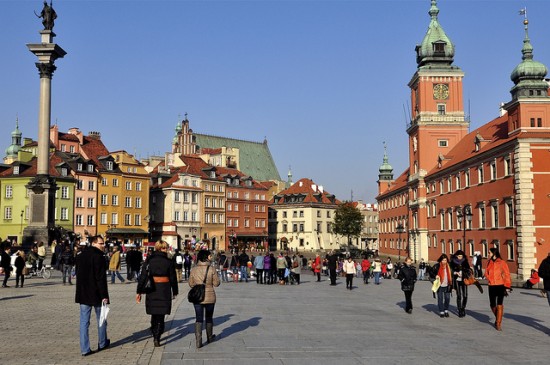 Warsaw historic center@y_entonces
ECONOMIC OUTLOOK

According to the Consensus Economics Forecast, Poland will see moderate GDP growth of 1.1% over 2013, which means a slowdown when compared to the previous year. 2014 should bring a more positive economic environment with an expected 2.5% GDP growth. In June 2013, Poland registered a 3% y-o-y increase in industrial production. The registered unemployment rate in May stood at 13.5% and was 0.9 p.p. higher than in the same period last year.
INVESTMENT MARKET

The total investment volume for Q1 2013 amounted to approximately €970 million across all commercial real estate sectors; the vast majority was foreign investment. For Q2 2013 the total value reached circa €330 million. Major transactions finalized in Q2 include Ghelamco's sale of its Senator office building in Warsaw to Union Investment and London & Cambridge Properties acquisition of Echo's retail portfolio in Tarnów, Radom and Piotrków Trybunalski for around €67 million. In the industrial sector, Segro acquired Żerań Park II for €43 million.
These figures exclude a few major deals that are expected to be finalized in Q3 and amount to €800 million in total.. We estimate prime office yields to remain stable at around 6.25% and retail yields for the best in class products at 5.75%. For truly prime warehouse assets, yields are expected at below 8.0%. The yield gap between prime and secondary product is 100 to 250 bps and we expect this spread to continue, or widen further.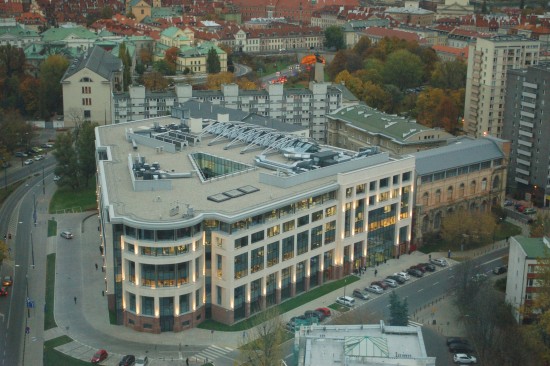 Senator Office Building@Wistula
OFFICE MARKET

In H1 2013, gross demand amounted to 334,000 m², up 12% y-o-y. Total gross take-up and net take-up in Q2 were 178,000 m² and 130,500 m² respectively. The largest transactions in Q2 2013 included: the Office for Registration of Medicinal Products, 13,000 m²; Unilever, a 5,400 m² pre-let in Eurocentrum Office Complex; and a new deal by Grupa Żywiec, 4,300 m². The largest renewals were concluded by Johnson & Johnson (7,250 m²) and the Royal Bank of Scotland (5,300 m²).
Total completion volume in 2013 is expected to be the highest since 2000, with as much as 336,000 m² to be delivered. 2014 may also see a high volume of space coming to the market, with some 270,000 m² announced for delivery. The vacancy rate remained on an upward trend and reached 10.5% at the end of Q2. Vacancy in the City Center remained stable, at 9.9%; in non-central locations, the average vacancy reached 10.8%, with the highest rate found in the southwest district (15.6%). Prime rents have been revised slightly downward over the quarter in the Central districts to €22 to €24/m²/month. The best non-central locations are estimated at €14.50 to €14.75/m²/month.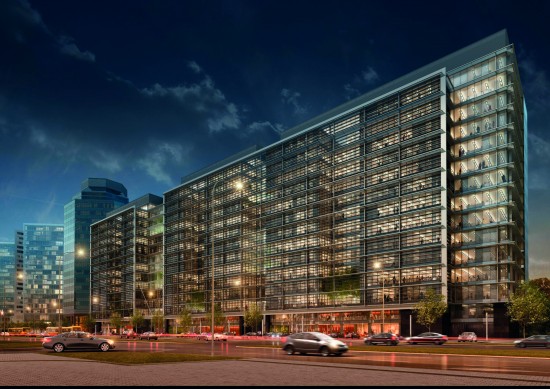 Eurocentrum Office Complex@CEPD Management
RETAIL MARKET

Q2 2013 brought the opening of Galeria Podkowa (nearly 8,000 m²) in Podkowa Leśna and the second phase of Auchan shopping center in Łomianki which currently offers 32,900 m². Galeria Mokotów, which is being extended by 5,000 m², is successively releasing the new space. Plac Unii, a mixed-use project comprising 15,500 m² of retail and 41,300 m² of office space, will open in Q4 2013. After the completion of Plac Unii, the saturation level of 435 m²/1,000 inhabitants will rise to 444 m² /1,000 citizens.
The total retail stock stands at 1.588 million m² and accounts for 14% of the total supply available in Poland. Strong demand for modern retail space in prime centers in Warsaw keeps the vacancy rate stable at a low level of approximately 2%. The most notable opening was the flagship store of Louis Vuitton in June 2013. Prime shopping center rents for a 100 m² unit, remain stable and trade at €80 to €95/m²/month. The same rental level is observed in prime high-street locations. However, we expect rents to increase during the next months, reaching €100/m²/month.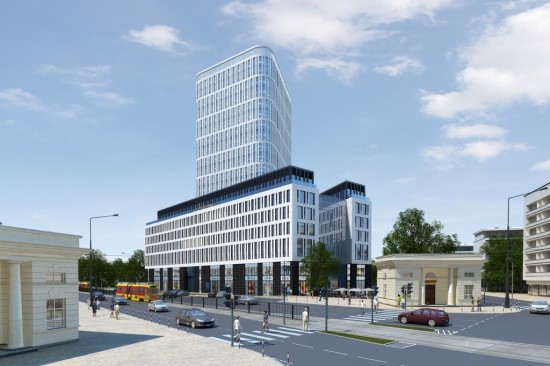 Plac Unii@liebrecht-wood.com
INDUSTRIAL/LOGISTICS MARKET

In Q2 2013, with gross demand of over 79,000 m², the Warsaw region remained one of the most sought-after locations for logistics in Poland. The largest deals included a confidential client who leased 10,000 m² in MLP II scheme, Multi-Decor who secured 6,000 m² in Błonie Business Park and Green Factory Logistics who expanded their leased floor space by an additional 4,000 m² in Europolis Park Błonie. The Warsaw region still features the highest warehouse and production stock among all the Polish regions, amounting to 2.53 million m². In Q2, the supply grew by 6,000 m², completed within Prologis Park Janki. An additional 63,000 m² is now under construction. The pipeline comprises four new developments: two extensions and two new schemes. The extensions include Tulipan Park Warszawa (24,000 m²), and MLP Pruszków II (18,000 m², out of which 3,000 m² is built on a speculative basis), whereas new developments comprise the Diamond Business Park Ursus (11,000 m² – all of which speculatively) and Ideal Idea III (10,000 m²).
HOTEL MARKET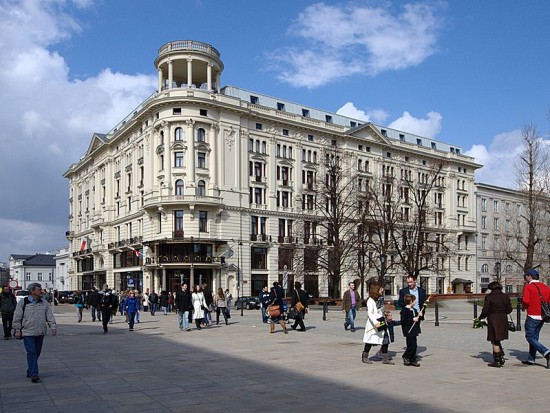 Hotel Bristol@Nemo5576
Overall, tourism demand has been increasing over recent years, showing a cumulated annual average growth (CAAG) rate in arrivals and bed nights of 6.6% and 4.6% respectively, since 2004. As of June 2013, Warsaw's hotel market consisted of a total of 64 hotels with close to 12,000 bedrooms. The largest share of room supply is in the three-star segment making up about 27.0% of the total room stock. Five-star establishments have the second largest graded hotel room count with roughly 3,100 rooms. The hotel development pipeline remains active and there are currently seven hotel projects either under construction or in the concrete planning stage. The majority of development activity in 2013 will occur at Warsaw Chopin Airport. This includes the 116 room Hampton by Hilton, the 225 room Renaissance Chopin Airport and the 206 bedroom Sound Garden Hotel and Conference Center. 
 If you'd like to promote your city, please contact media@europe-re.com.