What has your company been up to in the past 12 months? What are you focusing on at the moment?
Boyko: In the first six months of this year UTG consulted on more than 30 development projects. The total area of the projects developed amounts to around 660,000 m², and includes shopping and entertainment centers, office and residential complexes. Also during this period, 72,000 m² of shopping area was put into service, which is 15% more than the same period last year. We have almost fully leased out the best Ukrainian shopping center, Ocean Plaza, and are now preparing to open it.
Furthermore, we have created concepts for four large shopping centers ranging from 70,000-140,000 m² GLA, with investments from US $100-350 million each. We are now following up on these projects.
How has your business changed along with the changes in the real estate markets?
Neposedov: One of the basic factors influencing the real estate market is the complete absence of credit for projects in Ukraine. As a result, since the 2008 crisis the pace of construction of some projects has slowed down and the construction of others was shut down completely. However, now new players that are more powerful financially have replaced the previous investors.
Commercial real estate in Ukraine is showing a level of profitability that is hard to attain in other types of business. In the last one or two years, a considerable amount of investment has been transferred from the production sector to the development of commercial real estate. In spite of the general crisis, our company has filled up its portfolio and is engaged in projects of a completely different quality.
What are your plans for growth, and where will your growth be directed in the coming years?
Boyko: As usual, the main vector of our company's development will be in providing follow-up services for development projects. In the near future we are planning to include architectural design and engineering consulting into the list of our services, aside from general consulting, property leasing and administration. Essentially, we are constantly forced to look at the issues we face in the process of project follow-up. Our company has enough qualified staff and sufficient experience to be able to offer such services.
Are you planning to expand into other markets?
Neposedov: Yes, certainly. Our company today is a leader in the Ukrainian market, the volume of which is limited compared to the markets in neighboring countries, and especially to Russia. We have some experience working in Georgia, Moldova and Russia, both in Moscow and in the other regions (Orel, Belgorod, Tyumen).
We are planning to increase our presence in the Russian market, which is what we are actively working on now.
We are currently carrying out work in other markets remotely, but we are looking at opportunities to open representative offices in Russia. In the Russian market we will have to compete with the same players which we successfully outperform in the Ukrainian market. Due to projects such as Ocean Plaza, Respublika, Manhattan Mall in the last few years, our company has successfully conducted world-class projects in collaboration with new developers, the best foreign architects, global retail networks. We have considerable experience which is definitely needed in the different regions of Russia.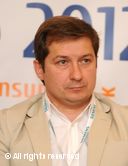 Vitaliy Boyko
What differentiates you from your competitors?
Boyko: Our business model is substantially different from that of our competitors, offering a fuller service for the developer. Our
consulting projects include not only research and economic calculations, but also conceptual design. Our concept, the development of which usually takes just about two months, appears before a customer both as a marketing model and as an architectural model, fully corresponding to the site potential, and also as a business plan.
Moreover, as opposed to our competitors, we provide complete follow-up of the project in the process of its design and construction. Not a single draft is put on a developer's table without our previous approval.
We are a sort of adviser for developers, ready to answer any questions. We have plenty of clients, and to every new client we pass the experience accumulated from the realization of previous projects. Since our assets are not only significant in Ukraine, but also in the rest of Europe, our experience is one of the most modern and diverse in the field.
Neposedov: Today our portfolio includes the best commercial projects in Ukraine, with which we attract new brands entering the Ukrainian market. UTG can offer the leaseholder not only a good shopping center location, but a whole national expansion program, including the best locations in several shopping centers in Kiev and in shopping centers in other regions. It is also very important that our company is one of the few in Ukraine with experience in shopping center management.
In Ocean Plaza we have brought more than 40 brands to the Ukrainian market for the first time. Now that there are no free sites remaining in Ocean Plaza, our next landmark project will be Respublika shopping center (135,000 m² GLA), in which will be able to satisfy the requirements of any large realtor.
In your opinion, what is the outlook for the retail real estate market in Eastern Europe over the next 12 months?
Boyko: The commercial real estate market in Ukraine is quickly moving toward saturation, whereas in Moldova and Georgia the first high-quality shopping projects have only appeared recently. Although the markets in these countries are rather small and not without risk, they are developing very fast, a fact that is confirmed by the number of projects we are working on. Regarding Russia, after the saturation of the largest markets of Moscow and Saint Petersburg, as well as a few other big cities (of more than 1 million inhabitants), commercial real estate development is growing fast in the regions.
Many shopping networks already operational in Moscow and Petersburg are scheduled to open in cities of around 500,000 people. In such cities the demand for supermarkets, movie theaters, retailers of electronics etc. has already emerged. In Russia it is possible to secure credit, and the high rates are compensated by high leasing rates.
In Ukraine the retail market of Kiev – the greatest consumer market in the country growing by 15% a year – has the best prospects. However, in other regions of Ukraine the situation is mixed; there are regions which are oversaturated with commercial real estate and others with low levels of consumption, which poses a problem of profitability for the shopping malls.
How does the situation in the Ukrainian commercial real estate market compare to what's happening in the rest of Europe?
Neposedov: Ukraine is one of the few countries where large facilities are developed with investment money, without bank credit, which is very difficult to obtain in Ukraine. I would also note that there are no opportunities for collective investment in Ukraine, which is a driver of development in the European real estate market.
Foreign development in Romania and Bulgaria is at about 90%, in Poland it is almost 80% and even in Russia it amounts to 20-30%. In Ukraine on the other hand the share of foreign developers is close to zero – all the development is carried out by Ukrainian investors. The Ukrainian hotel real estate market is oversaturated; the residential market, due to many reasons, is languid; the office market is on the verge of collapse. Commercial real estate is actually a unique segment, attracting the attention of large financial and industrial groups. And we are very pleased because practically all of them are our clients.