DNA of Real Estate Q2 2018 | Cushman & Wakefield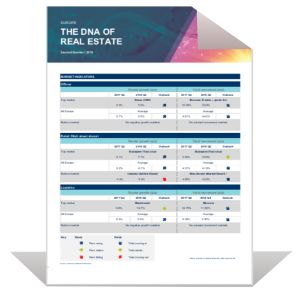 The DNA of Real Estate covers the key office, logistics and high street destinations within Europe and provide an overview of their quarterly performances, giving you a summary of prime rents and yields for the respective cities and markets.
Highlights: Yield compression the strongest in the logistics sector (down 14bps since Q1) No negative rental growth (quarter-on-quarter) in any European office or logistics markets
European prime retail yield moved out for the first time in four years
The overall European logistics yield dropped 14bps to 5.95% in Q2 2018, the first time it has fallen below 6% since Cushman & Wakefield began consistently tracking the three main property sectors in 1992.
All logistics markets monitored in Germany, Italy and Sweden recorded inward yield movements during the second quarter, and a couple of UK locations also contributed to the overall shift down to 5.95%. About a third of the monitored office locations saw some yield compression with a prime weighted average down from 4.49% to 4.42%. In contrast, high street retail yields softened in a few locations and the overall prime yield moved out by 1bps to 4.19%. Despite the fall in the prime logistics yield below 6%, the gap relative to office and retail is still higher than in the previous cycle.

Office rents grew at a robust rate of 0.8% q-o-q with several markets – across different countries and regions in Europe – seeing increases up to 5%. Limited rental growth was recorded in the retail sector while rental correction in Turkey offset this growth, resulting in the weighted average rent 0.1% lower than the first quarter.