UK High Streets: Dead or Alive? | Cushman & Wakefield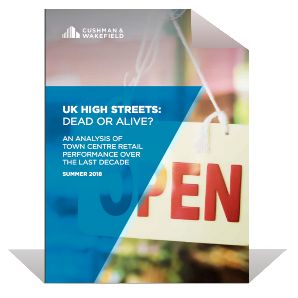 The focal point of the UK High Streets: Dead or Alive? report is the Retail Resilience Index, a ranking of 250 towns based on 22 economic, demographic and retail property metrics, most of which have been tracked over a 10-year period, providing a rounded analysis of town performance.
These metrics include retailer demand, leisure spend, floor space density, rental change as well as broader economic indicators such as house prices, catchment demographics, business survival rates and tourism spend.