From looking at our research and others', the overall evolution of the shopper can be summarized with three main insights: - increased lack of time - increased use and expectation of an omnichannel experience - increased impulse actions
Time-strapped shopper
It shouldn't come as a surprise that today's shopper is busier than the one 65 years ago. But when did our lives get so busy? According to The Washington Post, Ann Burnett, a communications professor at North Dakota State University, the rise of American busyness started in the 1970s and 1980s. She studied personal holiday letters starting from the 1960s and found words such as 'hectic, whirlwind, consumed, crazy, constantly on the run, and way too fast' appear in correspondence around the 70s and 80s. This was probably due to the high unemployment and inflation, and the society's lifestyle. In the 2012 and 2014 POPAI Shopper Engagement Series, the most common US shopper was the 'time-stressed' shopper (29%, respectively 27%) characterized by being in a hurry, time-pressured, easily tempted, unlikely to use coupons, etc. They are the shoppers who like to grab-and-go, want to know exactly where everything is, and are tempted by in-store marketing or anything that isn't the 'norm.' We can also see the lack-of-time trend, by the decreasing length of time for shopping trips. In 1995, the average length of a shopping trip was 51 minutes in the Mass Merchant and 54 minutes in supermarkets.
©Apple
Become more experiential
With everyone attached to their smartphones 24/7, it makes sense that omnichannel shoppers are more evident than ever. In the 2014 Mass Merchant Study, POPAI found 15% of shoppers used their mobile devices for making shopping decisions, versus the 8% who used them in 2012 in the grocery channel. We can only imagine what the futures holds, especially with phones like the Amazon Fire being available for purchase–the Fire registers any product's UPC label and directs you to its Amazon listing.
Due to this trend, many marketers and producers are predicting a brick-and-mortar revolution. Omnichannel shoppers always go online for comparison, but still visit a store for purchasing, so to make stores more profitable and relevant, they will need to become shopper destinations. They will need to be a place where shoppers linger, enjoy their time, learn, and can become intrigued by displays/products/experiences.
Impulse Shoppers
Shoppers' hectic lives also lead to impulse buying. According to Ian Zimmerman, PhD, impulse buying is related to anxiety and unhappiness. From the previous insights, you can see why the evolving shopper is more anxious and unhappy. Impulse purchases typically fall in one of the aforementioned categories because they're not something a shopper intended to buy or even look for, but they feel the need to purchase it.
POPAI's research has seen a general increase in impulse purchase decisions since 1986. In our research, we call these unplanned purchases, and part of the overall in-store decision rate. The most recent unplanned rate is 62%, which is attributed mainly to branded product displays.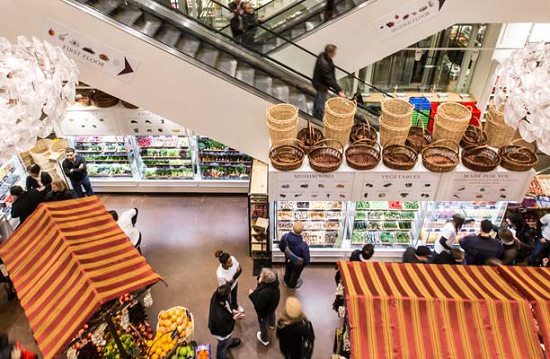 ©eataly.com
The future shopper
Did you ever think your unhappiness, lack of time, or mobile use would really change your shopping habits? Well they do, and shoppers are affected by more than what meets the eye. Retailers will have to look at their actions, their lives, and other insights they come across. Our society is only becoming more time-stressed, frantic, and penny pinching, so retail needs to evolve just like the shopper. Gone are the days when the shopper would walk in your the store, ask an associate what the best product is, and purchase it. Shoppers are latching onto technology and so should retailers.
The full article is in Retail Space Europe 2015 reference book. Purchase the book in the
webshop
About POPAI
Point of Purchase Advertising International (POPAI), established in 1936, is the association for the in-store marketing industry. Its membership, more than 1,400 companies, includes leading creators, manufacturers, buyers and users of this vital medium in the U.S. and abroad. POPAI functions as the research and promotion arm of the industry by conducting continuous research programs and disseminating the findings to marketing, advertising merchandising and sales promotion executives.