INVESTMENT MARKET
In 2012, the total investment activity reached under €150 million, the lowest volume of transactions since 2002, as the market was characterized by a significant lack of liquidity. The most important office transaction was the sale of Infopark E in the last quarter of 2012. Several retail assets, including two Family Centers, and various SPAR, Match and Profi units were also transacted for around €40 million in 2012. The drop in the annual investment volume clearly reflects investors' cautiousness towards the Hungarian market, partly due to the uncertain macroeconomic situation, but above all, due to the perceived unpredictability of government policy.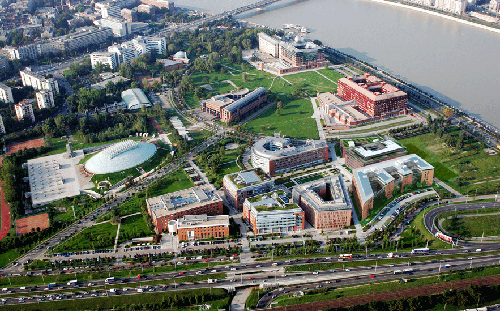 Infopark Office Park, Budapest.
OFFICE MARKET
The leasing activity in Budapest was mainly dominated by lease renewals and subdued development activity throughout 2012. Only 22,950 m² of new office space was completed in 2012, but in 2013 volumes are expected to drop further, as only one building is planned to be completed with 15,500 m². Vacancy rate has somewhat decreased but the annual volume of net absorption was negative, therefore the year-end vacancy rate was still 176 bps higher than in the same period of 2011 (19.2%).
 The drop-back of occupier activity was clearly reflected in the annual demand figures. In line with our forecast, the annual volume of total leasing activity reached only 344,980 m², which was 13% less than the recorded volume of 2011 (395,000 m²). More than 50% of the annual take-up volume was lease renewals, which is significantly higher than last year's 38%. 
Low development activity remains for the immediate future as there are only three office buildings under construction with 58,100 m² total volume due to be delivered by 2014. No major recovery is expected in terms of occupier activity for 2013 either. Renewals and renegotiations will remain the main drivers of demand and are expected to reach similar levels to those in 2012.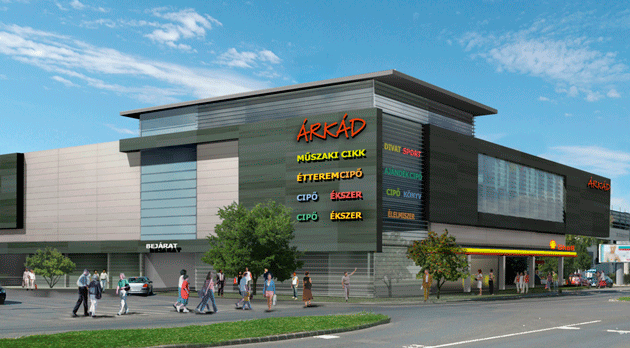 ©ECE             Arkad will extend into Budapest by the end of 2013.
RETAIL MARKET
The shopping center stock was increased in 2012 with two new schemes in Hungary accounting for 13,800 m² retail GLA: Sió Plaza, developed by ERSTE, was delivered with 8,500 m² in June and WING's Hegyvidék Központ was opened in October. During 2012, several new brands entered the Hungarian market and the presence of the luxurious and high-end brands expanded. Notable entries included: The North Face, Monclear, MaxMara Weekend, The Body Shop, Massimo Dutti, La Perla and Superdry. During 2013, only one new shopping center will open in Hungary. The expansion of ECE's Árkád by 20,000 m² is the largest ongoing development in Budapest, with expected delivery in spring.
INDUSTRIAL MARKET

Similarly to the office market, the volume of new supply on the industrial market was also extremely low, with only 16,450 m² delivered to the market. However, the majority of new supply was pre-leased and vacancy rate increased to 19.4% q-o-q. As the annual volume of net absorption reached a positive figure, this rate was still 155 bps lower than in the same period of 2011 (20.9%). The annual total leasing activity equaled 354,740 m², which was 8% higher than in 2011. Renewals represented nearly 63% (222,200 m²).