What are your current projects?
We are experimenting and developing innovative shops and restaurants. One example that we are particularly proud of is the 'Boutique du Quotidien' convenience stores. They offer a simple and practical mix of eat-in or take-away food, last-minute basics, newspapers and magazines, books, cigarettes and other practical services. By the end of 2014, around 40 'Boutiques du Quotidien' will be open in stations.
Other projects in the pipeline include crèches, medical laboratories, food trucks and concierge services.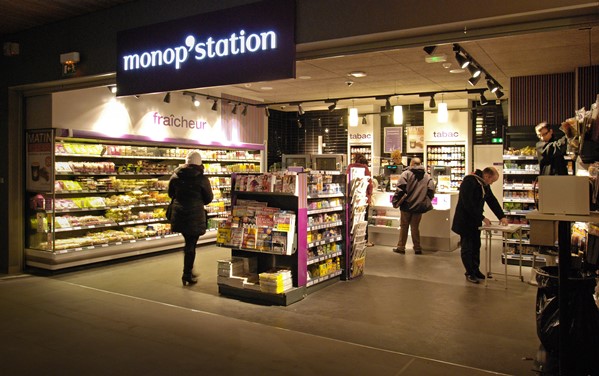 What type of tenants do you aim to attract?

Our aim is to bring attractive, well-known and popular retailers to stations. We are attracting an increasing number of international brands, such as Starbucks, French companies like Paul, but also local retailers offering regional produce. We are opening previously unseen shops because stations are becoming an attractive location. For example, Desigual and Mango are coming to Paris-Est station this year.
In 2013, we launched a new in-station catering offer—I actually prefer to use the term cuisine. We are delighted to have Chef Eric Frechon, who opened a gourmet brasserie in Saint-Lazare station. Burger King also opened in this station and has been very successful. Another example is the Montreux Jazz Café in Paris-Lyon station and its very special jazz atmosphere with a restaurant area and a bar/lounge area for music and gigs.
What are the advantages of shopping spaces in transport hubs and train stations and what should potential tenants be aware of?
Sales to passers-by offer real opportunities for retailers. 2 billion passengers use our stations every year; therefore, there is a guaranteed footfall for retailers, but they need to adapt to the station environment, which means long opening hours, customers in a hurry (two out of three passengers arrive at the station less than 20 minutes before their train departs), average transaction volume per passenger of €11, small retail and storage areas, etc.
Paris Saint-Lazare station is the perfect example of our varied products and services offering, with big retailers selling clothing, fast food, fragrances, small household items and more.
Customers purchase items to treat themselves or others and also to save time thanks to the shops and services along their route.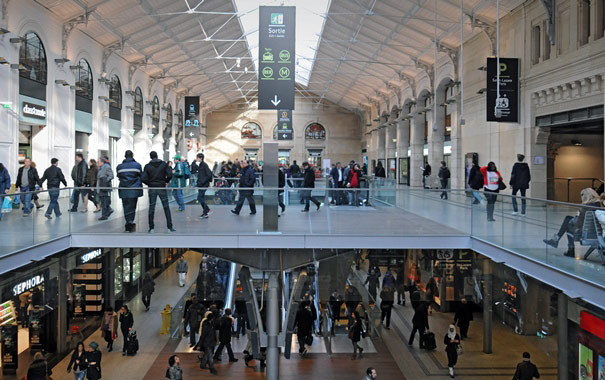 How does France compare to the rest of Europe in terms of commercial spaces in train stations?
SNCF is the rail network with the largest number of stations in Europe. Just over 400 stations have at least one retail outlet (newsagents).

For the past four years, we have observed a significant increase in the quality and diversity of retailers, some of which have never been seen at other European stations.
This puts us in a good position compared to our European counterparts, bearing in mind that cafés and restaurants are very important in French culture.
Every day, Gares & Connexions is looking at the retail potential in stations that do not currently have any shops or restaurants, in order to improve life for passengers and local residents.
How have train stations changed in the past few years and how do you expect this new trend to continue?
One of the roles of Gares & Connexions is to modernize and renovate stations. This includes the architecture, materials and essential services, such as information, security and comfort, but also involves shops and events.
The commercial drive that we have launched in stations must continue. Our ambition is to make stations warm, lively and pleasant places, and shops and restaurants are also an important part of this.
We also aim to make stations digital. One of the revolutions in 2014 is free unlimited WiFi in over a hundred stations. We are the first in Europe to roll out free WiFi so quickly and on such a large scale.
We want to develop a personalized and location-specific relationship with connected passengers, with in-station information, retail promotions, coupons offering discounts in one of the station's shops and more…
How would you describe today's typical shopping behavior and how does it fit in with your strategy?
There are two customer experiences relating to in-station shopping:
'Leisure & Pleasure'
purchases represent 46% of in-station purchases. The relevant category of passengers is private/leisure and professional/business travellers. They purchase items to fill their in-station and journey waiting time. They are looking to treat themselves or others. 58% of them have between 10 and 30 minutes, with 40% having 20 minutes for in-station shopping.

'Time-saving, Efficiency/Practicality'
purchases represent 54% of in-station purchases. The buyers are mainly commuters who make the same journey every day to go to work and return home. Half of them have 10 minutes for in-station shopping.

As for the clientele, it is varied and can consist of:

Passengers with different reasons for travelling (leisure, business, commuters)




Travel companions




People who live and work in the area