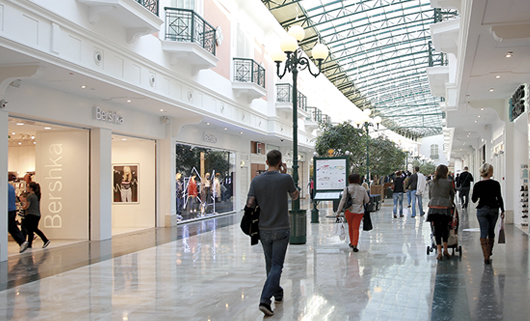 Val d'Europe is the most powerful attraction in Paris region: 16,4 million visitors come each year.In addition to the constant flow of tourists coming from Disneyland® Paris, Val d'Europe captures a primary zone that is becoming more and more densely populated. The immediate proximity of one of the best European shopping outlets also plays a major role in winning people over.
Individuals and businesses continue to move there, won over by the setting and its exceptional infrastructure. With the fifth-largest hotel capacity in France, Val d'Europe is also the leading destination for conventions in the Paris area.
An ultra-connected center Located in one of the strategic areas of the Paris region, Val d'Europe is an extremely accessible destination point near the Roissy-Charles de Gaulle airport. A few minutes from Disneyland® Paris, the center is served by TGV, the regional express line (RER A) and motorways.
A mix of trends All the brands that matter have a presence in Val d'Europe. Considered as the reference shopping center for the Parisian region since its opening in 2000, the center is now preparing to make room for the new and very attractive concepts that will create the differentiation.
A spectacular extension of 17,000m² with 29 new retailers In 2016, when it unveils a grand new extension, a new design and a totally revisited customer experience, Val d'Europe will confirm its status as leader and open its doors to 29 new international retailers, including Primark and Uniqlo, on 17,000 additional m².
Val d'Europe
Paris region, France

Investor: Klépierre, SCI Secovalde
Developer: SCI Secovalde
Owner: Klépierre, Axa
Architect:Cabinet Dominique Hertenberger, Cabinet Lobjoy & Bouvier
Tenants: Apple Store, Bershka, Pull & Bear, Stradivarius, H&M, Desigual, Zara, Fnac, Uniqlo, Primark, Auchan, Castorama, La Grande Récré, Sea Life, Go Sport, Cap Tonic
Start of construction: 2014
Completion: Q4 2016
More Information
Klépierre 26 Boulevard des Capucines CS 20062, 75009 Paris France
T: +33 (0)1 40 67 57 40
website: www.klepierre.com