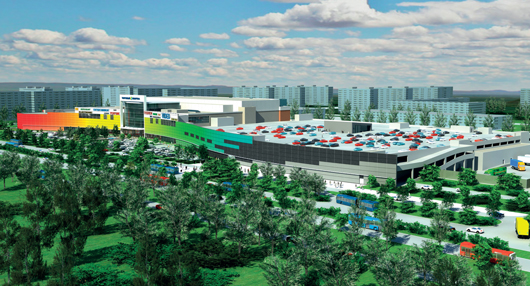 The European experience of TriGranit Management Corporation and local market knowledge has made Torgoviy Kvartal a highly successful scheme with a vacancy rate of zero and a healthy turnover trend. As a result, the owner, TriGranit Holding Russia, is planning to add 32,000 m² GLA to the existing mall to reach a total future GLA of around 56,000 m².
A truly regional center
The opening of the fully expanded mall is scheduled for the first half of 2015. The new scheme will give Torgoviy Kvartal the opportunity to consolidate its current leader position on the regional market in the long term, offering its visitors a modern, attractive tenant mix with a hypermarket, fashion anchors, electronics and sports anchors, as well as entertainment and restaurants. After the extension, Torgoviy Kvartal will be the first real regional shopping center in Naberezhnye Chelny. Footfall will increase from an average of 15,000 people per day to a forecasted level of about 30,000 people per day.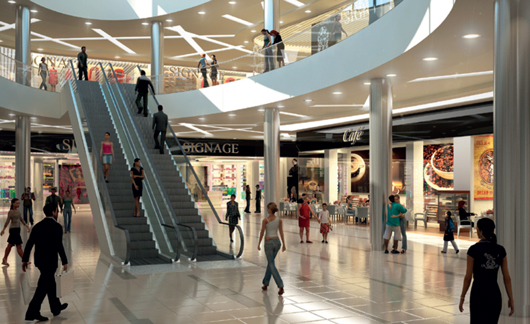 Naberezhnye Chelny has a population of 514,000 and is the second biggest city in the Republic of Tatarstan. The city is developing dynamically. In 2011 industrial production increased by 19.2% year-on-year. Retail turnover grew by 11.7% in 2011 and 14.1% in January- July 2012 compared to the same period in 2011. Torgoviy Kvartal is located within the most populated part of the city, where 80% of the inhabitants live, on the main boulevard which crosses the city from west to east. It is thus very accessible by car, as well as by public transport. A bus station is located in front of the shopping center.
---
Torgoviy Kvartal extension
Naberezhnye Chelny, Russia

Program:
Shopping center extension. With the completion of the development, the GLA of the project will reach 56,000 m² with 200 retail units, providing parking space for up to 2,000 vehicles.
Investment: US $130 million (extension)
Construction Management: TriGranit Development Corporation
Architect: Fazekas Architecture
Tenants: Hypermarket, International and local retail brands, Cinema
Start of construction: 2013
Completion: H1 2015
---