Rental growth in the EMEA region increased by 2.1% overall, fueled by better economic news in Europe, greater finance availability, a very active demand from luxury retailers and improved general consumer sentiment. Specifically, there were encouraging performances from Western (2.4%) and Eastern Europe (2.6%). Out of the 33 EMEA countries surveyed in the report, only seven recorded rental falls while the other 26 saw values either stabilize or rise.
1. Avenue des Champs-Élysées, Paris, France  (€13,255/m²/year)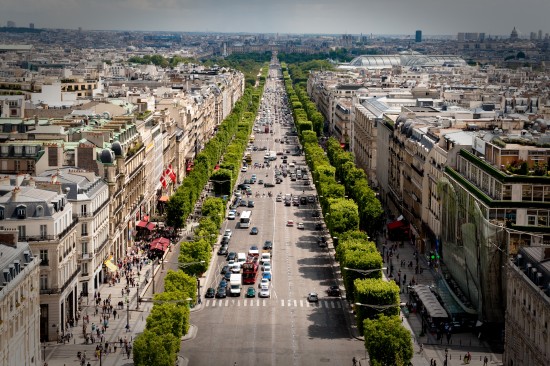 The highlight of the year in EMEA was undoubtedly France which recorded 16.3% growth in the past year. The nation's premier shopping destinations were yet again energized by extraordinary luxury retailer demand: more than 100 luxury stores – a combination of new shops, extensions, refurbishments and pop-ups – have opened in France since 2011. Further growth in tourist numbers and limited supply also contributed to the rental uplift.
2. New Bond Street, London, UK (€8,666/m²/year)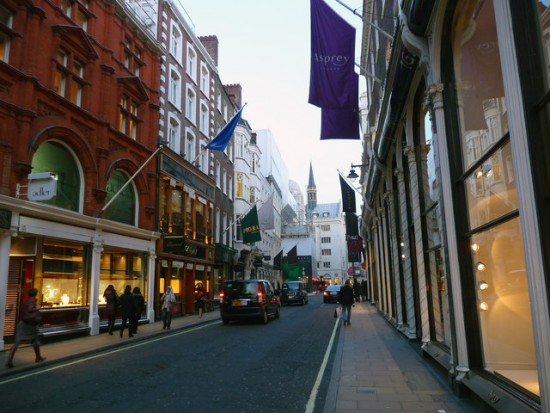 ©Chris Talbot
UK rental growth (6.0%) continues to be dictated by London, where the main shopping streets again outperformed the rest of the country. Luxury locations such as New Bond Street, where values surged 15.6%, and Sloane Street continue to attract phenomenal interest from occupiers – on average there are around 10 international brands competing for each store.
3. Via Montenapoleone, Milan, Italy (€7,500/m²/year)
In Milan, Via Montenapoleone continues to attract exceptional interest from retailers, although Via Sant'Andrea and Via della Spiga today could represent alternative locations.
4. Rue du Faubourg St Honoré, Paris, France (€7,364/m²/year)
Cited as being one of the most fashionable streets in the world, thanks to the presence of virtually every major global fashion house.
5. Avenue Montaigne, Paris, France (€7,364/m²/year) 
Avenue Montaigne boasts numerous stores specializing in high fashion, such as Louis Vuitton, Dior, Chanel, Fendi, Valentino and Ralph Lauren, and jewelers like Bulgari.
6. Bahnhofstrasse, Zurich, Switzerland   (€7,236/m²/year)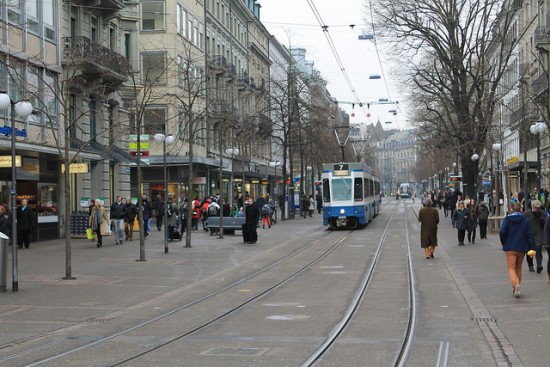 ©Patrick Nouhailler
In Zürich, steady demand from luxury retailers from the fashion, jewelry and watches segments was evident mainly on the upper part of the Bahnhofstrasse.
7. Via Condotti, Rome, Italy (€7,000/m²/year)
Via Condotti is one of the most popular fashion streets in Rome, with stores by Dior, Gucci, Valentino, Hermes, Armani, Jimmy Choo, La Perla, Prada, Salvatore Ferragamo, Furla, Burberry, Celine, Dolce & Gabbana, and many more.
8. Place Vendôme/Rue de la Paix, Paris, France (€6,628/m²/year)
Home to luxury hotels and high-end jewelry stores, Place Vendôme is considered one of the most high-end squares in Paris. 
9. Piazza Di Spagna, Rome, Italy (€6,500/m²/year)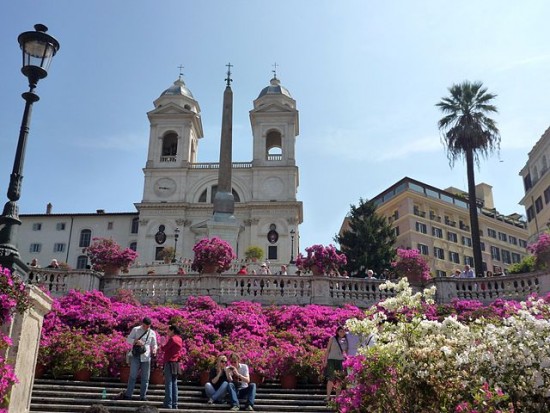 ©Fczarnowski
Piazza di Spagna in Rome registered the highest rise in rental values over the year to June, namely 8.3%. 
10. Piazza San Lorenzo, Rome, Italy (€6,000/m²/year)
Rents in Piazza San Lorenzo in Rome remained unchanged compared to the previous period.
Norway saw the third highest growth in EMEA (16.2%), while Russia saw a similarly impressive rental rise of 15.4%. The prime segment of Austria (8.9%) continues to benefit from tourism and international retailer interest.
The survey also found the situation has improved in underperforming EMEA markets. Prime rents in countries such as Greece and Ireland, although declining by 7.3% and 7.8% respectively, did so at a slower pace than last year, while rents in other markets which fell in 2011/2012 – Bulgaria and Hungary – have stabilised or risen modestly this year (Portugal, 2.6%).
About Cushman & Wakefield

Cushman & Wakefield is the world's largest privately-held commercial real estate services firm. The company advises and represents clients on all aspects of property occupancy and investment, and has established a preeminent position in the world's major markets, as evidenced by its frequent involvement in many of the most significant property leases, sales and management assignments. The firm has nearly $4 billion in assets under management globally. 
A recognized leader in local and global real estate research, the firm publishes its market information and studies online at www.cushmanwakefield.com/knowledge.