So how did this all begin?
"Our company started in a garage with nothing but ideas from my twin brother Klaus. Within six months I joined him and we first supplied Christmas lighting locally in Tyrol. For the first five years we focused on working with distribution partners, cities and towns. Then we added wholesale, direct distribution in different countries and the hospitality industry. In the last five years we have also concentrated a lot of effort on the shopping center industry.
"Our first export market was in Germany and currently we have offices in 22 international markets, all supported by our head office in Austria. We also have all of the certificates for expansion into the Canadian and US markets."
What kind of lighting do you do?
"MK Illumination has three lines: the professional line, which is at the heart of our product range, a range of high quality chain lights which offer exceptional quality, unique character and high performance; the collection line, which is a range of high-quality two-dimensional lighting displays for street lamps, house exteriors and street banners; and the limited edition, which is the heart of the conceptual festive lighting."
It must take a lot of people to design and create your displays. How do you make them?
"We have a state-of-the-art factory in Slovakia which builds our custom-designed 2D and 3D motives and displays. We pay loving attention to detail and artistry. You can think of it as the Rolls Royce of the company, it's all handmade, genuine craftsmanship."
What about the lights and materials you use?
"MK uses patented low power LED's. Patented LED's are sourced exclusively from a reputable manufacturer, provide assured legal position on the market and luminosity and quality fulfill the highest standards. In over 10,000 hours, a Premium LED loses 10-20% of its luminosity - cheap copies, however, can lose 50% and more in only 1,000 hours. Quality control is very important, and we purchase all components ourselves, lights made to our specifications. We oversee the production, and quality control of our light products."
How do you go about thinking up spectacular conceptual lighting displays? Do you work with themes or trends?
"We have eight designers, plus some external designers we work with, a super team in the development department. We try to understand the positioning of the center to create the right experience.
"Consequently, we need background information from the client in order to design a scheme that will present a comprehensive story, keeping in mind their communication policy and advertising campaigns. To create a unique, spectacular display the whole process can take anywhere from six months to a year."
How do you build strong brands for your clients? Is it mostly seasonal?
"Because we understand the business challenges facing shopping centers and cities, we're well positioned to assist them in creating a strong, vibrant brand image. We develop our decorative lighting concepts to create the perfect ambience for the target group.
"Due to our research we have found that the customer differentiates between the Phew (immersive experience of well being and calm) effect and the WOW effect (exciting experience of shoppertainment) to make the shopper feel welcome.
"As 90% of our products are festive and for Christmas, our major turnover is in the last four months of the year."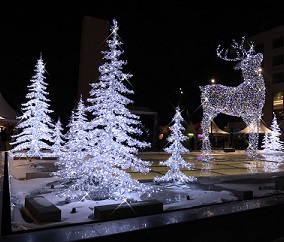 Bratislava Eurovea
Do you ever repeat the designs?
"Sometimes designs may be similar, due to tastes in regions being the same e.g. colors for baubles, garlands and stars etc. In a country designs are not repeated – pan European some repeats of motifs can of course occur but never whole concepts. Our conceptual designs are unique."
How is LED lighting different to work with than incandescent bulbs?
"It was easier working with a normal bulb, it either worked, or it was burned out and needed to be replaced. The LED light diminishes over time so you need to create the right effect with warm white, the same color as incandescent bulbs. Luminosity and color are key factors.
"When creating displays we also take the day light into consideration as many centers are very open with lots of natural light. Patented LED has a longer duration, plus there is a considerable energy savings of 80% and substantial CO2 reduction."
Are environmental issues are a concern for MK Illumination?
"The environment is a major factor influencing our company strategy for many years. MK Illumination first began to switch over to LEDs approximately 10 years ago. Today, our entire product range is 100% LED-based. At Christmasworld 2011 we showcased our new design concepts and launched our new 'green' range which features products made from 100% recyclable organic materials. This range is called MK Organic."
How do you manage to install all of these lights? Don't you worry about breakage?
"We have special teams to do the installations and servicing. We are a real family company, our third brother Harald leads the installations teams of 120 people. All of the installations are done professionally and safely. Most breakage occurs in transport and when installed and dismantled. Of course when we dismantle the displays, everything is checked and refurbished before it goes into storage."
Do clients re-use their lighting displays or order new lighting each season?
"In Germany, Austria and Scandinavia lighting displays are used three to five years; and in other countries the basic decorations are re-used over a period of years, with some accent changes added."
To what do you owe the success of your company?
"We are very happy to have found people who really think like we do, in many countries. Also being present in every country in Europe we speak the same language as our customers and understand the customs of the country. We pride ourselves on our personal touch towards our clients."