According to JLL, in H1 2016 Russia and CIS branded hotel market grew by about 2,000 rooms, of which approximately three-quarters – almost 1,500 rooms – were opened in Russian cities.
The leaders in H1 2016 in terms of new hotel openings were Moscow, St. Petersburg and Yerevan. In Moscow (including Moscow Region) three new properties appeared, and in each of the other two cities two branded hotels were opened. For instance, Holiday Inn Moscow Seligerskaya has recently opened in the Russian capital (former Iris Congress Hotel, 201 rooms) and Ibis Stupino (125 rooms), as well as Radisson Residences at Zavidovo (200 units); in St. Petersburg –Hampton by Hilton Expoforum (207 rooms) and Best Western Plus Centre Hotel (107 rooms); in Yerevan – Double Tree by Hilton (176 rooms) and the Radisson Blu (142 rooms).
In addition, new hotels have been opened in Nizhny Novgorod, Krasnodar, Tyumen, and Minsk.
Branded hotels opened in H1 2016 (by room number)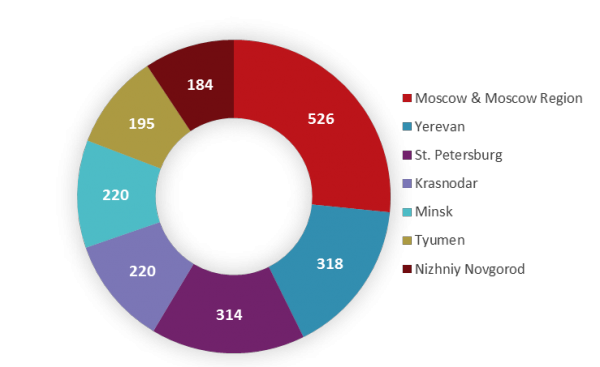 "About a third of the branded room stock proposed for the year has already been put into operation in H1 2016 in Russia and CIS countries," Tatiana Veller, head of JLL Hotels & Hospitality Group, Russia & CIS, said. "Hilton is the leader in terms of new openings – all properties announced for 2016 already started receiving guests (762 rooms in total).
For the second half of 2016, 4,000 new rooms have been announced for Russia, the CIS and Georgia, of which approximately 2,300 will be in Russia. Thus, the total volume which is set to enter the region in 2016, as of the date of this report, is over 6,000 rooms, which is 1,315 rooms less than the amount forecast early this year, according to JLL.
"Hotel development is a complex process, with a large number of potential bottlenecks and critical points along the way, which may affect the timing of project delivery. Usually by the mid-year point professional players can realistically forecast the total new room stock to be added to their portfolios by the end of the current year." Tatiana Veller commented. "Notably, the geographical spread of forecasted additions to quality room supply has changed: Rostov-on-Don, Tver, Volgograd, Voronezh in Russia, as well as Aktobe, Shymkent in Kazakhstan disappeared from the map of new openings scheduled for 2016. At the same time, new projects not declared by operators in early 2016 appeared – Moscow region, Batumi (Georgia), Almaty (Kazakhstan). The planned addition to room stock in Moscow (2,000 rooms in total for the year) still constitutes about a half of the announced new quality room stock in Russia."
Opened branded hotels in H1 2016 (by room number)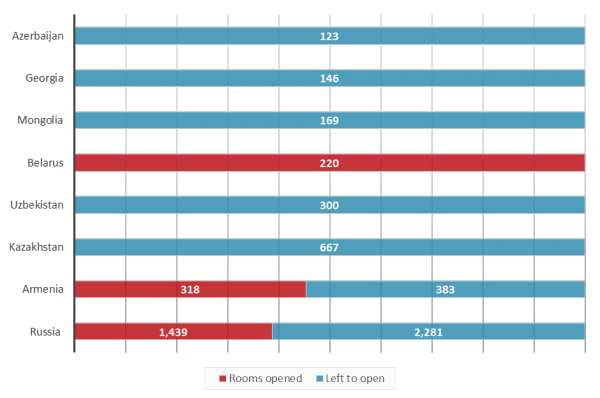 According to JLL, the speed of hotel openings in the region has been slowing gradually. For instance, slightly over 4,000 new rooms opened in Russia and 2,800 rooms in CIS and Georgia in 2015, which surpasses the targeted openings for 2016 by 8% and 19%, respectively. "The 2014 result was considerably higher due to the massive hotel construction which took place in preparation for the Olympic Games in Sochi – about 6,000 rooms, which gave a huge boost of over 10,000 rooms to the total branded supply in Russia." Tatiana Veller added. "Current situation could be the delayed effect of investors being cautious because of economic stagnation. The average timing of midscale hotel project delivery – and midscale makes up the bulk of the potential new rooms inventory today – is 2-3 years, so today we are seeing the consequences of developers' conservatism in approaching hotel projects in late 2013 and 2014."