With the completion of Forum Lviv approaching, Multi Ukraine announces the shopping center opening date. On August 21st 2015 Forum Lviv will become a true part of Lviv's local community and welcome its first customers.
Forum Lviv will be the first shopping center in Ukraine to be certified according to BREEAM standards. The project is financed by EBRD and Unicredit, among Lviv's most important investors. The total value of the project is approximately € 92 mln. The total amount of new jobs to be created – over 800. The amount invested in the city infrastructure (streets upgrade, sidewalks, and so on) – over € 2 mln.
The official announcement was made during one of the regular visits of Andriy Sadovyi, the Mayor of Lviv, along with Iryna Kulynych (Head of Economic Policy Department), Iryna Ivanchyna (Head of Galytska District Administration), Ulyana Korzhevych (Acting Head of Foreign Economic Relations and Investments department) to the construction site. Thus, Mr Sadovyi will be the honorary guest to open the shopping center to the public in August.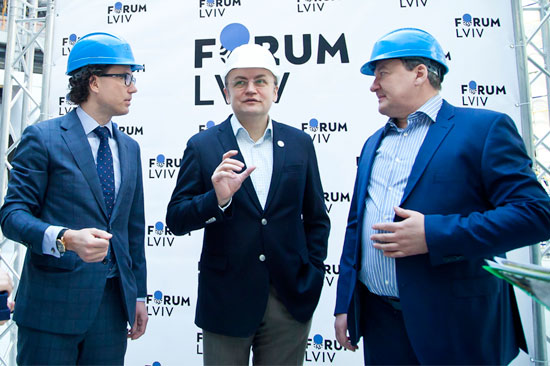 © Multi Corporation "It is with great pleasure and honor that we announce the opening date for Forum Lviv. In our communication we always accentuate how we want Forum Lviv to be a true part of the local community. We are thankful to Mr Sadovyi and the representatives of Lviv City Council for being open and supportive of our cooperation. Announcing an opening date four months ahead is a true sign of mutual confidence which clearly is the result of a long-lasting respectful and transparent relation," comments Gawein Minks, Director Multi Ukraine.
Forum Lviv will be located in the city centre on Pid Dubom Street, just a short walk from the city's main square and famous Opera House. The three storey shopping centre is topped by a level complete with cinema, leisure facilities and restaurants overlooking the city. The total built area of the project is 70,000 m² (GLA 35,000 m²). It will also have an underground parking garage with 600 spaces, the first of its kind in Lviv city.
"It is important for Lviv that another major investment project, construction of Forum Lviv shopping center, was implemented. Having such a big project opening during hard times in the country is once again a sign that our city is an attractive destination for investors. Besides the shopping center the city also received refurbished sidewalks and roads. We sincerely thank the investors for participating in the landscaping of the territory. I am confident that as the result of cooperation with Multi new jobs for Lviv citizens will be created," comments Andriy Sadovyi, Mayor of Lviv.
Source:
Multi Corporation