According to JLL, the Moscow office market saw no completions in Q2 2017. This extended the recent trend of delayed deliveries.
Until the end of 2017, 542,000 m² of new offices are expected to enter the market. In the first half of the year, only 21,143 m² were completed, implying that almost all completions this year will take place in H2. The bulk of space will appear to projects in Moscow City: IQ-Quarter, Federation Tower East and OKO (Phase II).
The total volume of transacted space was 283,477 m² in Q2 2017 (10% lower YoY) and 450,480 m² in H1 2017 (a 22% decrease YoY). However, the take-up expected by the end of 2017 (1.1m m²) will be roughly the same as last year.
"The Moscow office market is gradually shifting towards normal activity, with prevalence new leases and relocations. The pickup in transacted space after a drop in Q1 2017 as well as the restoration of new leases and relocations indicate the beginning of a Moscow office market recovery." – says Elizaveta Golysheva, National Director, Head of Office Agency, JLL, Russia & CIS. – "Thus, the share of renewals and renegotiations continues to decline, reaching 19% in H1 2017 versus 49% in 2016 and 64% in 2015."
Geographically, a large share of transactions has been signed in decentralized locations outside the Third Transport Ring (36%), while the CBD accounted for 18% of take-up in H1 2017.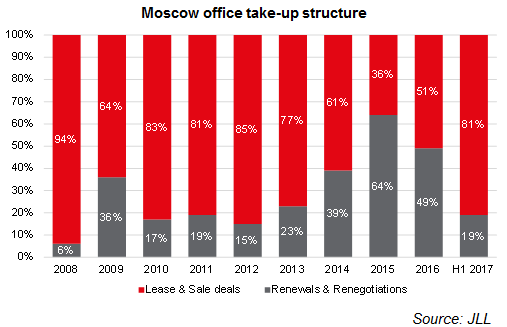 In the demand structure the following business sectors were most active in H1 2017: banking & finance (40%), business services (23%) and manufacturing (18%). Note that banking & finance maintained its leading position.