In Q2 2015 the overall volume of quality shopping centers in Moscow exceeded 4,529,000 m², while this figure in Paris is about 4,497,000 m². Istanbul is in the third place with 3.8 mln m², Madrid has ranked the fourth (2.5 mln m²), and the fifth place goes to St. Petersburg respectively (2.1 mln m²).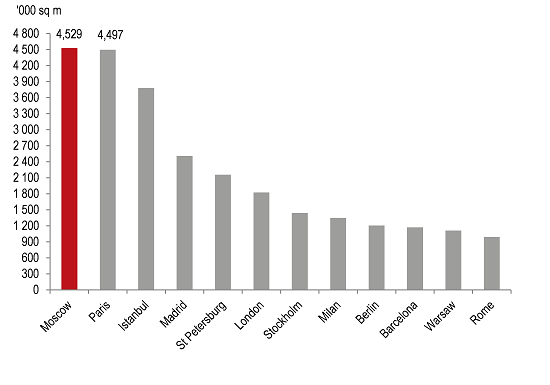 Among the biggest shopping centres opened in H1 2015 in Moscow are Columbus (136,000 m²), Kuntsevo Plaza (66,000 m²), MARi (70,000 ²) and Centralny Detsky Magazin on Lubyanka (34,000 m²). Nevertheless, in Q2 the volume of new completions has shown negative dynamics compared to the previous year, only reaching 93,000 m², which is 49% less on y-o-y basis. This trend is due to continue through to the end of the year. JLL experts predict that new completions in H2 are to be four times lower than in H1 with 78,000 m² coming to the market. As a result, we expect annual completions in 2015 are to fall by 30% compared to 2014 and comprise about 420,000 m².
"Most of the shopping malls which construction and leasing had started before the crisis in the market were opened at the beginning of the year," – Tatyana Kluchinskaya, National Director, Head of Retail Department, JLL, Russia & CIS, explains. – "At the same time, today we are observing a gradual delivery of new projects and the resumption of development activity. Retail market players are adapting to work under changed reality conditions.
It should be noted that the recent projects have different formats, mostly small ones. It gives the developers certain confidence to complete these objects with tenants in the current environment. In the next three years we expect the overall volume of new retail space in Moscow to decrease - in connection with the suspension of some projects and surface reduction of planned shopping centres. A similar situation was observed in 2010-2013, when shopping centre completions in Moscow declined several times, but later this figure was recovered."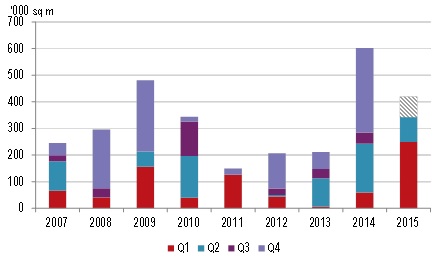 In Q2 the shopping centre vacancy rate has risen from 6.5% to 7.5% in Moscow shopping centres. Such an increase in vacant space is primarily associated with new deliveries on the market. Tenants' activity in terms of existing projects was little changed over the quarter. According to JLL analysts, the availability of 47% of shopping centres has remained unchanged, 24% of them have indicated growth, and 29% have even decreased their vacancy rates.
JLL claims that in Q2 the vacancy rate in successful shopping centres with high traffic and conversion has declined by 20 bps from 1.5% to 1.3%. "The demand for existing successful shopping centers is stable, allowing them to hold high prices." – Maria Shpakova, Retail Market Analyst, JLL, Russia & CIS, adds. – "In our view, the vacancy rate in shopping centers is likely to increase by the end of 2015, but it will not exceed 2%, while the overall shopping centre vacancy rate is to rise up to 8%."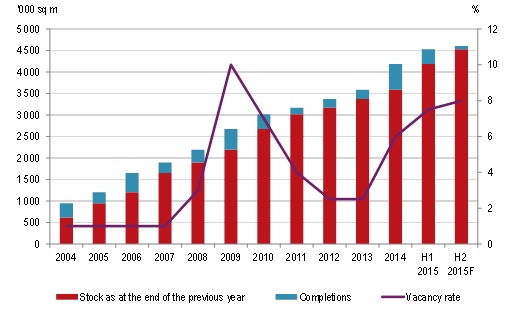 Rental rates in shopping centers in Moscow in Q2 are flat. Prime rents are €1,811-3,441/m²/year whereas average rents are $362-1,313/m²/year. Landlords still consider alternative options in commercial terms individually, which in most cases depends on the attractiveness of retailer for their shopping centre and their financial performance.
About JLL
JLL is a professional services and investment management firm offering specialized real estate services to clients seeking increased value by owning, occupying and investing in real estate. A Fortune 500 company with annual fee revenue of €4.2 bln and gross revenue of €4.8 bln, JLL has more than 230 corporate offices, operates in 80 countries and has a global workforce of approx. 58,000. On behalf of its clients, the firm provides management and real estate outsourcing services for a property portfolio of 316 mln m², and completed €106 bln in sales, acquisitions and finance transactions in 2014. Its investment management business, LaSalle Investment Management, has €50 bln of real estate assets under management. JLL is the brand name, and a registered trademark, of Jones Lang LaSalle Incorporated.