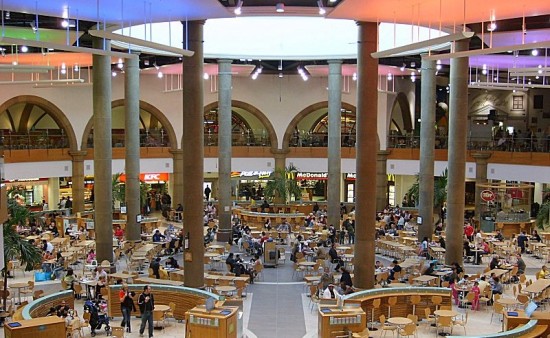 Meadowhall Shopping Centre©Gregory Deryckere
A component contributing to a customized shopping experience, the food stalls, cafes, sit-down restaurants or the multiple food vendors generally known as the food court are a prime source of revenue for shopping centers. Displaying specialties with appetizing look and taunting smell, the meals or the in-between snacks and drinks add value to the shopping center, making it a 'great food destination'. These inviting opportunities added to the primary function–shopping–differentiate the traditional bricks-and-mortar stores from e-commerce. Diana Avram from Europe Real Estate (REP) looks at three concepts of food and beverages in shopping centers with internationally acknowledged success.
The Orient: A food court to remember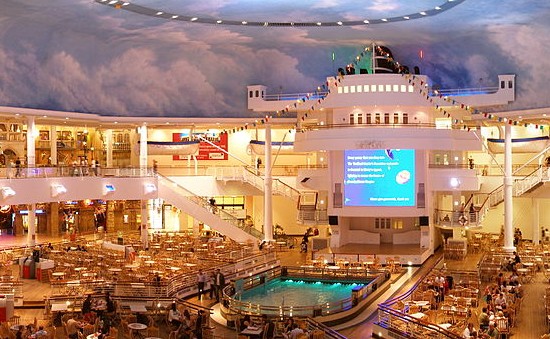 The Orient©buzzard525
One of the focal points of the opulent Trafford Centre in Manchester, The Orient food court is famous for being Europe's largest. With a capacity of 1,600 seats on two floors, the 60 restaurants, cafes and bars were inspired in their design and their cuisine from countries such as China, Egypt, America and Morocco. The variety of The Orient appeals to both the shopper on the move and to the shopper who chooses the elegant food hall to enjoy a refined three-course meal. 
Starbucks: 'Life happens over coffee'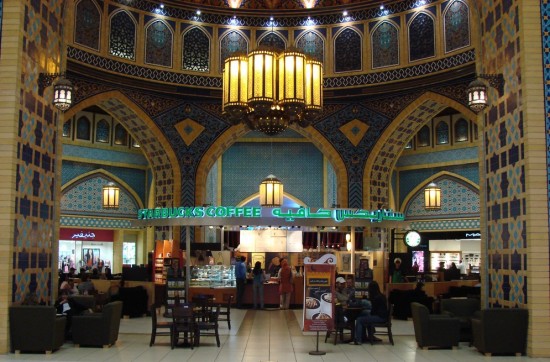 Starbucks Ibn Battuta Mall©Marc van der Chijs
With a name said to evoke 'the romance of the high seas and the seafaring tradition of the early coffee traders', the world-renowned retailer of specialty coffee has been active since 1971. Today, the fresh-roasted beans are available in 18,000 stores in over 62 countries. An appreciated Starbucks bringing the heritage of coffee in a themed shopping center is the one in the Ibn Battuta Mall of Dubai. Located in the center of the Persia Court, under a hand-painted dome, the appealing cafe attracts a large number of visitors who appreciate this Starbucks store as one of the best in the world.
IKEA: Specialties in blue and yellow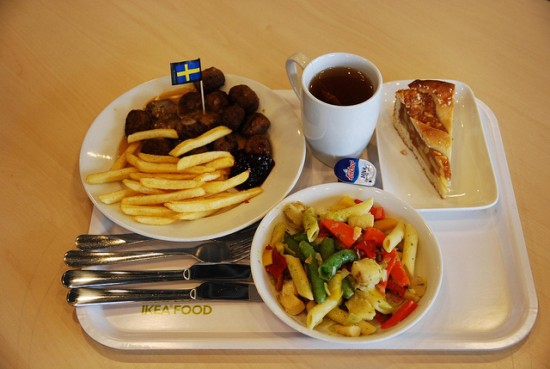 IKEA meal©avlxyz
The furniture giant IKEA differentiates itself through the loop layout of the showrooms as well as the location of its restaurants. After introducing the shoppers to everything their store has to offer, the IKEA shopping path ends with a Swedish Food Market as well as a restaurant serving the traditional specialties. Following the Swedish tradition, IKEA restaurants allow refills of coffee, tea and soft drinks.
Hospitality is key

Like a hospitable host aiming to offer a fun/relaxing experience, shopping centers welcome their visitors with a variety of food and beverage stores. The culinary temptation which is nowadays part of the customer's expectations is one of the services which cannot be replicated online. Retailers need to consider the food and beverages trend not only to be able to compete with the unstoppable rise of e-commerce but also as a safe strategy to increase footfall.