New kid on the block
European companies with ample experience in the development, management and letting of shopping centers must take advantage of their expertise in the sector and their contacts in the area of letting in order to leverage their entry in new markets that offer significant possibilities of growth. However, the competitive advantage of experience is not sufficient to enter a new market without having complete knowledge of its economic situation, function and local context.
Due to the high investment required when operating in a new country, reducing risks is essential. One possible option, and the one adopted by Sonae Sierra, is to initiate operations in a new country through the provision of services to third parties in order to perform the functions that European companies in the sector know best: the development, management and letting of shopping centers.
Open doors with third party provision
Through the provision of specialized services to third parties, companies introduce themselves in a new context and have a leeway to postpone investing in their own developments. Third party provisions give companies the opportunity to acquire sufficient knowledge of the local market, meet the country's main retailers and learn the legal framework applicable to the sector. Likewise, those who contract European companies benefit from fully professional services as well as communication with the main international retailers.
This first step of specialized third party service provision can lead to establishing more solid partnerships for the development of new joint projects in which the European company may have a small share of assets and assume responsibility for the project's development, management and letting activities.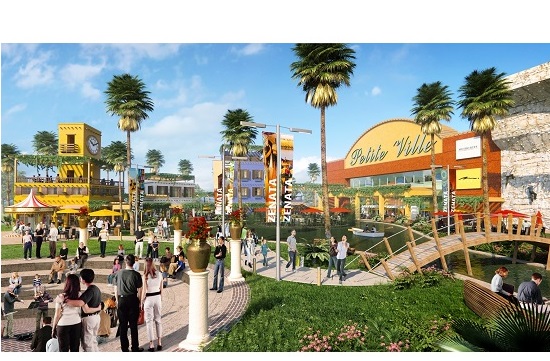 ©Sonae Sierra
The place to be
To implement this strategy and begin operations, it is important to select the countries that are the most interesting and have the greatest potential for growth in the shopping center sector. At present, in a scenario of rapid economic change, we can identify four very clear areas.
In South America countries like Colombia show favorable economic prospects for the next few years with a growing middle class. North Africa hosts countries like Morocco and Algeria which benefit from their proximity to Europe and from globalization. In addition, Russia and certain countries of Eastern Europe offer commercial possibilities in view of a macroeconomic situation that is beginning to show signs of recovery. Finally, China and other Southeastern Asia countries in which consumption continues to grow strongly, are evolving from being mainly exporting countries to having increasingly robust internal consumption.
Strengthening our focus on developing countries should not entail abandoning interest in more mature markets which continue to offer high returns. Aside from key players like Germany, there has been an improvement of consumption in countries like Spain and Portugal. Many mature European markets show positive signs of a growing shopping center sector.
Sonae Sierra is clearly committed to both maintaining a solid presence in mature economies as well as growing in new markets. At present, the company has three new projects for third parties underway, and provides specialized services to 88 shopping centers in 14 countries. A clear example of this successful strategy can be seen in Morocco, a country in which Sonae Sierra began rendering services to third parties in 2011, finally making its first investment in the country last year with the development, leasing and management of the Zenata Shopping Centre.
About Sonae Sierra
Sonae Sierra is the international shopping center specialist, passionate about creating unique shopping experiences. Our integrated approach to the shopping center business includes the ownership, development, management, and provision of professional services activities.