Istanbul continues to be the most improved player
While there has broadly been stability at the top of the global rankings, further down has seen high levels of flux in the past three years, as cities readjust to the geography of global opportunity.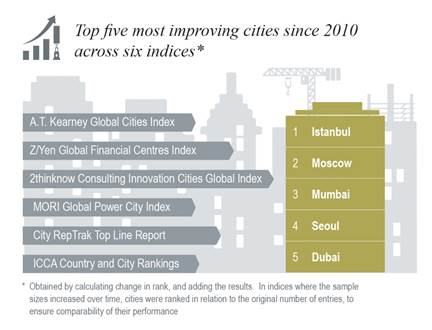 © JLL

Across six leading indices covering everything from financial services to city image, Istanbul is the most consistently improved over the recent time frame. In particular it has cemented its status as a diversified onshore provider of financial services, and has regularly overtaken medium-sized established cities owing to its scale and gateway functions. Other cities to show marked progress since 2010 include Mumbai, Seoul and Dubai.
Singapore ranked most business friendly
Singapore and Stockholm are among the major improvers at the top of the city rankings in the last two years. Singapore leads the Asian charge in higher education, mobility, science, broadband and technology platform indices, and is the world 'number one' city for business friendliness. The city's brand rankings also indicate that it is beginning to shake off its reputation for a lack of vibrancy among expats and tourists.     Stockholm's consistency across growth, knowledge and quality dimensions has seen it steadily improve its position, especially within Europe. The Swedish capital is now not only among the world's best for governance, urban planning and sustainability, but also displays strong cluster effects. Unusually among its peers, both its ICT and manufacturing sectors have grown their GVA by around 25% since 2008.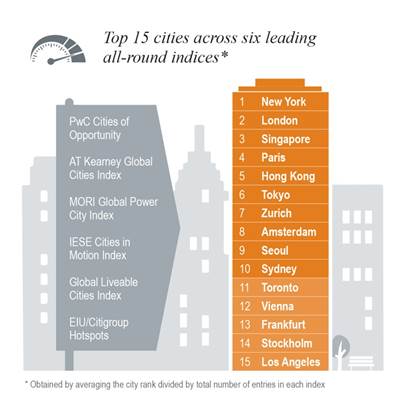 © JLL

Greg Clark, Chairman, The Business of Cities and JLL's Cities Research Center, says "The improved performances of Istanbul, Santiago and Seoul illustrate how cities can, and do, alter their positions in indices over time. Changes have been achieved by lifting standards, altering perceptions, supplying new information, engaging in partnerships, adding new rankings, and through many other mechanisms."  
Download JLL's full 

report



, The Business of Cities 2015, which analyses over 200 globally recognized city performance indices to understand the comparative performance of cites.