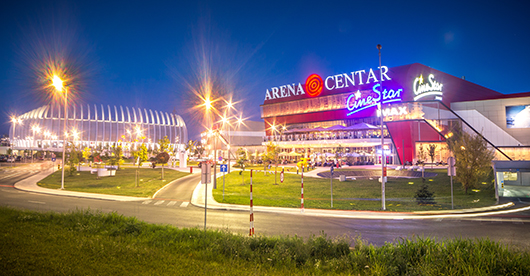 ARENA Centar is the 1st shopping center in Croatia with a specially designed landscape boasting various greenery, walkways, art sculptures and attractive urban equipment designed by international and local designers. This esthetical and pleasant environment is further enhanced by the sensory parks for persons with impaired vision and interesting educational playgrounds.
ARENA Centar shows exceptional concern for the protection of the environment through various ecological actions and engagements. It is a proud bearer of the Greenmark sign and the host of the first Croatian green-tech and green-lifestyle fair GREENVEST: HOME EDITION.
With the help of the adjacent Arena Zagreb sports venue and the anticipated development of the Arena Office Park, ARENA Centar is sure to transform the district of Lanište, as well as Zagreb, the Croatian capital, into a dynamic and lively urban community.
Constant growth of the footfall and turnover numbers have helped establish ARENA Centar as the leader at the forefront of the Croatian and the Southeast European shopping center markets. It generates the largest visitor spending among all local shopping centers. Therefore, it comes as no surprise that, according to the market research, an impressive 63% of the local residents have selected ARENA Centar as their favorite shopping center. ARENA Centar is the ultimate destination for shopping and entertainment in Croatia and the Southeast Europe.

Arena Centar
Zagreb, Croatia

Program: Shopping and entertainment center with 62,000 m² of GLA and parking for almost 3,000 vehicles
Developers: TriGranit Development Corporation
Architect/designer: UPI 2M
Investment: €244 million
Start Of Construction: 2008
Completion: 2010
Tenants: Anchor tenants: Inditex/Zara, XYZ, H&M, New Yorker, Mass, C&A, Elipso, Cinestar IMAX, Mango, Interspar, M&S, LPP (Reserved, Cropp, House, Sinsay, Mohito)
First on the market: Desigual, RIP CURL, KFC, Columbia, Zara Home, H.E. by Mango, LPP brands - Reserved, Cropp, House, Sinsay, Mohito, Lego Store