What sets Invesco apart from your competitors and how do you come by your critical market knowledge?
Andy Rofe: There are a number of aspects which set Invesco apart. We are cross border investment specialists, meaning that we create investment solutions for our clients to invest outside of their own domestic markets. We gain our market knowledge through a number of local offices via our European platform. We're experienced in taking capital both into Europe and out of Europe into Asia and the US. We're able to do that because our research-based philosophies and practices are allied with our market knowledge to provide sound market access and the ability to identify trends and movements in the market so we're able to direct capital into areas which deliver the best risk adjusted returns.
Simon Redman: We truly are an integrated global business. Invesco is equally incentivized to act in clients' interest whether they are based in Europe, the US, or Asia. As a result we can allocate capital to a particular market depending on its best risk adjusted returns irrespective of where that market is. We are global but we also operate locally. We have thirteen offices worldwide and within each region we're very research driven, looking at all of the markets into which we seek to invest from a research perspective. We combine this research knowledge – which gives us more of a macro view in terms of the interrelationship between different markets – with the on-the-ground knowledge of the people who really understand the markets, the players, and the opportunities directly.
The European Hotel Fund was launched in September 2006. How has the strategy of targeting mid-market hotels panned out? How do you see hotels performing with the current economic downturn?
Andy Rofe: In terms of our hotel fund we have a deliberate strategy to target mid-market hotels. The reason for that is when you're investing in hotels you're either investing in the real estate or for the business. There is a lot about hotel business that investors don't understand and they're fearful of taking that investment on themselves. The strategy of the hotel fund is to have the majority of the income fixed to a long term lease so that they're relatively defensive and you're buying the real estate locked into a secure covenant rather than taking hotel business risk. But investors also have the opportunity to participate in the upside; if the hotel is performing well you have the possibility to enjoy part of that upside to increase your return. In terms of the current economic climate the focus is on branded hotels which have a more comprehensive distribution across Europe, making them more likely to withstand downturns. Branded hotels appeal to a broader market and capture a greater degree of market share, which provides strength to the covenant and security to our investors.
In July Invesco's hotel fund acquired its first hotel in the UK – the Patio Hotel, Aberdeen in Scotland for a total investment of €44 million. How does the British use of the pound effect your decisions to invest there? Has the pound become more of an issue during the recent credit crisis?
Andy Rofe: The hotel fund is denominated in euros, and given the current weakness of the pound the euro goes farther in the UK, which is quite beneficial for the fund. Aside from that what we seek on this and all other funds, is to minimize the financial engineering of investments and focus on delivering the real estate returns. In all cases that involves interest rate hedging and in some cases currency hedging so we can effectively de-risk that element of movement. And that's particularly important in the current environment where the rates are quite volatile.
Simon Redman: We're paid to be real estate managers rather than currency speculators. Our approach to currency tends to be one of mitigating risk.
Speaking of the credit crisis, how has the current situation affected your operations?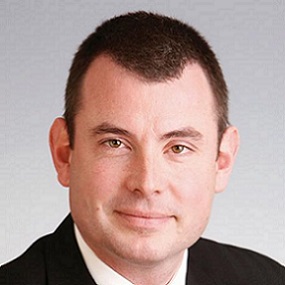 Andy Rofe, ©peimedia.com
Andy Rofe: We are in the fortunate position of not being structured as an investment bank or providing credit to anybody and that gives us a relatively stable platform. We are continuing to grow, albeit at a slower pace, so we're not in a position where we're forced to reduce our workforce and indeed we are selectively growing and expanding our platform across Europe to better service our clients. We're able to build on the funds that we're launching or have launched over the past 12-18 months to continue to roll out the platform. The capital raising is slower than the last few years but we are mindful of the fiduciary responsibilities we have in providing best advice to capital sources as to where to invest and when to invest.
Simon Redman: In a sense we see this as opportunity as well. We won't be launching any opportunity funds but we still have plans to increase our capital base and launch more funds in 2009. They will be based on fundamental real estate values rather than financial engineering. We'll continue to do what we do best which is to asset manage actively and buy well without relying on financing to derive returns. There will be less capital around this year but that doesn't stop our plans for growing the business. In fact I suspect there will be more opportunities as many of the financial players disappear from the market.
What are some of the primary reasons investors decide to invest in countries outside their own?
Simon Redman: Over the last 5-7 years the main motivation has been to chase returns, to chase the next place where there will be yield compression, deriving returns. However the initial reason many investors started to do so – and this will become more relevant again in today's markets – is to look for diversification. When people look at their risk adjusted returns they will continue to look overseas to benefit from markets which are uncorrelated with their own. They will look to optimize portfolios by picking uncorrelated markets, particularly those which are in more of an upswing than their domestic markets.
Which nations and regions do you see as hotspots for cross-border investment in the next two years?
Andy Rofe: In terms of the market that has seen the most correction, that is being led by the UK in Europe. There will definitely be opportunities to be found in the UK, either simply through the market or through distressed situations over the next 6-18 months. Following on from there, there will be selective opportunities from Continental European markets, but they are lagging behind in terms of price corrections. In regards to Russia, our approach in terms of evaluating markets is to look at them strategically from a research point. We take into account all the risk parameters including transparency and the depth of the market. In Russia we have been focusing on St. Petersburg, the 4th largest city in Europe and a region where you can buy freehold real estate rather than looking at development opportunities. The pricing is such now that the bid-offer spread has closed dramatically, so we're able to access real estate investments more readily. Even allowing for the political dimension, there are now opportunities which make sense for the capital which we have that is actively looking there.