European hotel investment transaction volumes totalled €9bn in the first half (H1) of 2017 representing an increase of 6% year-on-year, according to the latest data from global commercial property advisor, CBRE.
Spain has experienced an exceptional increase in hotel investment transaction levels which witnessed investment volumes soaring by 228% year-on-year and reaching over €2bn for H1 2017, compared to the same period in the previous year. The strong market performance has been largely driven by Spain's economic recovery, attractive asset pricing and availability, which is making Spain the most liquid hotel market in Q2 2017.
CBRE Hotels recently advised Starmel, a JV between Starwood Capital and Meliá Hotels International, on the sale of a major Spanish hotel portfolio, consisting of four Sol by Meliá branded assets in Ibiza, Mallorca, Lanzarote and Costa del Sol. This is one of the largest portfolio transactions in the history of the Spanish hotel market.
Miguel Casas, Director, Investment Properties, CBRE Hotels, Spain, said: "This transaction is a sign of the strength of interest that CBRE Hotels is seeing for European resort assets from a range of capital sources. The diversity of the buyer pool was a clear indication of the maturity and confidence of continued growth in these markets in the eyes of the global investor community."
Security concerns in competing leisure destinations have also contributed to a record-breaking number of visitors to Spain, recording 36.3 million tourist arrivals in H1 2017, an increase of 12% year-on-year.
Italy and the Nordics also recorded strong hotel investment growth with Italy posting a 59% increase with deals amounting to over €700 million and the Nordics reached an 57% increase in H1 2017. Meanwhile, the UK and Germany witnessed a decline in investment volumes (-9% and -10% respectively) which is mainly attributed to a shortage of stock and large portfolio transactions in H1 2016, which set the bar particularly high for comparison purposes. However, strong investment appetite persists in both markets.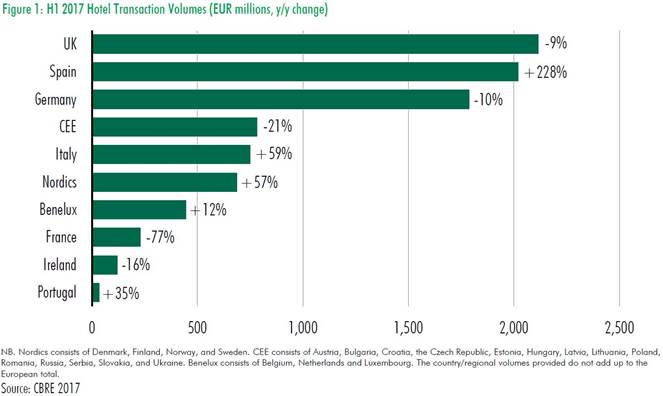 Catherine Latzenhofer, Analyst, CBRE Hotels, EMEA, added: "The 2016 hotel investment volume, whilst relatively high, experienced the headwinds of political and economic uncertainty and some questioned whether the investment market had reached a peak. However, a strong H1 2017 would suggest that growth has resumed, partly driven by portfolios, and 2017 is shaping up to be a busy year".