Local players drive European retail investment growth :

Local buyers are returning to the European retail property investment market in 2013, driving strong growth in the sector, according to the latest research by global property advisor CBRE.
European retail investment activity reached €7.9 billion in the first quarter of 2013 (Q1 2013), a marked 26% increase on the same period in 2012. This follows a record post-Lehman high in Q4 2012 when €13.4 billion was transacted. Investors remain largely risk-averse and are focusing their strategies on core Western European markets; however, this focus is starting to present a number of challenges – lack of desired product, intense competition and pricing.
While cross-border buyers accounted for around 35% of the European retail investment market the latest results show a notable increase in activity from local players, accounting for approximately 65% of the market. In the most active markets, Germany and the UK, local buyers accounted for 82% and 80% respectively of total transactions by value.
Cross-border Investment in European Retail (€m)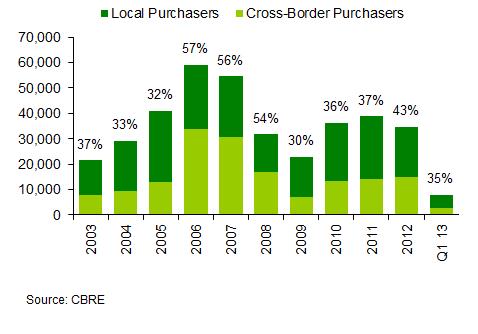 John Welham, Head of European Retail Investment, CBRE, commented:

"With international capital expected to remain plentiful, certainly in Western Europe, increased activity by local players will help to boost overall retail property investment levels. Local and international buyers tend to seek very different product in terms of lot size and this changing trend will ease some of the issues of product availability that have restricted activity in recent years."
Average Retail Deal Size (€m)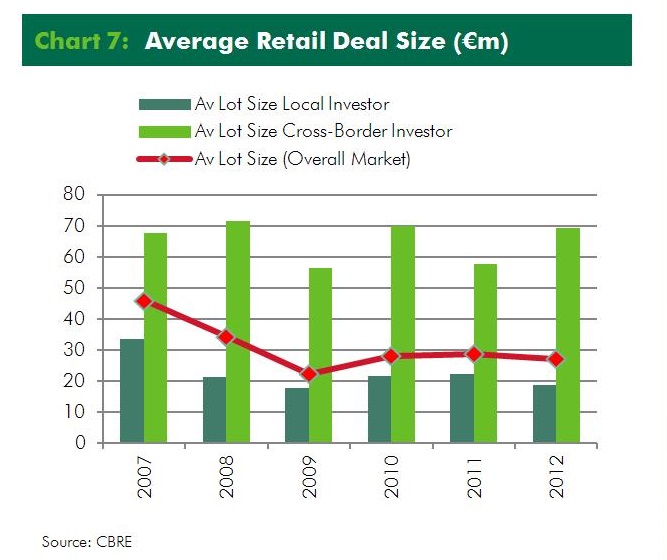 Perhaps reflecting this change in emphasis, high street retail has been growing in popularity, with over €7 billion transacted in both 2011 and 2012, and in Q1 2013 accounted for almost a quarter of overall European retail investment activity. This trend is supported in CBRE's 2013 Real Estate Investment Intentions Survey, which showed a significant increase in interest in high street retail – and is expected it to be even more clearly illustrated in retail investment activity going forward.
John Welham added:
"The common theme for local and cross-border investors in the European retail property market today is a high degree of risk-aversion and desire to access quality product. This benefited the shopping centre sector throughout the downturn, and is now extending to growing interest in core, prime, high street retail."
The latest figures also show the first signs of interest in more peripheral markets. Ireland, despite being one of Europe's smallest commercial real estate investment markets and one of the countries hardest hit by the euro crisis, has attracted substantially increased global interest, helped by reduced stamp duty and a Capital Gains Tax waiver. International buyers are attracted to core opportunities at a good yield, with a recent example being the GLL Partners purchase of 103-104 Grafton Street in Dublin for around €40 million at a yield of just over 7.0%.
Led by Norway and Denmark, the Nordics now account for a 17% share of the European retail investment market and transactions illustrate the increasing dominance of local market players on both the buyer and seller side. In Norway, both Q4 2012 and Q1 2013 saw a high level of retail investment (€1.96 billion and €520 million respectively) and retail sales are expected to increase by an average of 2.11% per annum for the next five years. Likewise, Denmark saw a record-strong first quarter, with over €450 million retail transactions, including the ECE European Prime Shopping Centre Fund's purchase of Rosengårdcentret center in Odense.
Retail Investment by Country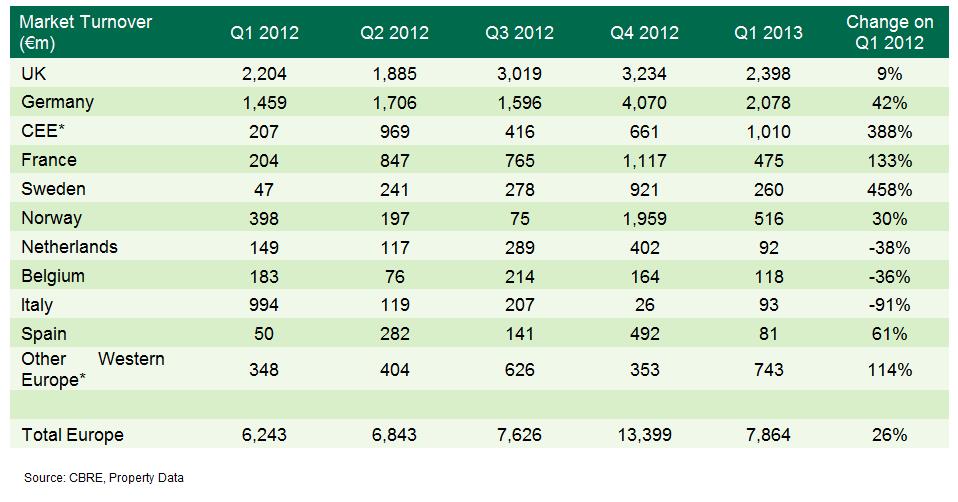 Valentin Gavrilov, Director, Research Department in CBRE, Russia, said:

"In Q1 2013 Russia won the 3rd place in top retail property investment destinations in Europe. As in other European countries, it is prime properties that are in investors' focus. Unlike in Europe, Russian retail properties remain in focus, first of all, cross-border investors. They see good potential in this segment despite the flow of negative signals from Eurozone economies. We expect this situation to continue in the coming 6 months with investments growing slower due to some deficit of prime retail properties supply on the market."
(This article features excerpts from the full report – please download it here)