Pop-up shops are increasingly being seen in shopping centers, employed as a temporary measure by many retailers to attract consumers to otherwise empty spaces. They provide consumers with something exclusive, surprising and exciting; keeping a venue appealing, while the brand gets exposure to create an impact and communicate something specific to a large audience. They are also a useful tool for marketing and branding purposes, particularly for online retailers who are looking for a physical presence.
For the property manager

For the property owner or manager a pop-up can generate a new revenue stream while creating higher footfall and a better customer experience by voiding empty locations within the shopping center. By rotating brands a property manager can create more interest for the consumer and a more desirable location in which to shop.
Planned spontaneity provides a refreshing experience for the consumer and improves a venue's appeal.
For the retailer

Pop-up retail should be incorporated in every existing and new marketing and advertising strategy as a nontraditional marketing solution. It can incorporate experiential and buzz marketing, contests, events and consumer PR, which offer compelling commercial and communication opportunities for brands to interact and engage with consumers in new ways.
A successful pop-up should combine a great location and retail concept with a memorable experience for the customer. Pop-ups can help increase brand awareness, while at the same time test the ground for something more permanent in a new location, environment or even a new country.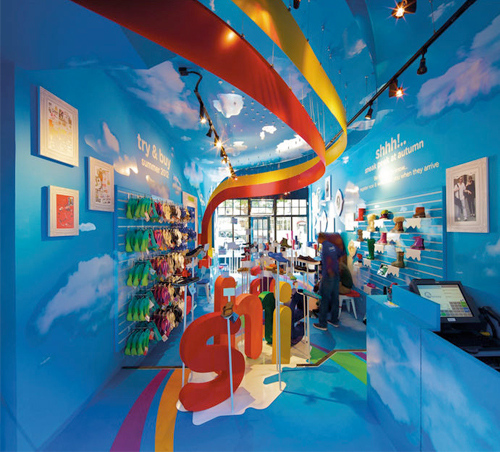 Croc has launched their first ever 'Croc-up store' on Brushfield Street
BrandSpots

BrandSpots is dedicated to providing brands, retailers and advertising/media agencies with a one-stop solution to leasing temporary locations for temporary space marketing by providing a physical presence in the form of a pop-up shop, outlet or window display in a variety of strategic locations within Europe and beyond. With a well-developed network of real estate partners we make it possible to secure the best desired locations Europe wide.
A full turnkey solution from concept development through to operational management makes it easy for brands to test new locations and products with little commitment. It also allows smaller companies to quickly run through new stock without the expense of storage or hiring permanent employees.
In cooperation with our highly skilled partners, the team of BrandSpots offers you an ideal platform to create pop-up shops and interactive shopfronts in all major cities throughout Europe giving you the ultimate opportunity to reach the target audience 'on the move'. It is a win-win-win scenario for the brand, location owner and consumer.
By Ilona Taillade, Co-Founder and CCO, BrandSpots

About BrandSpots

BrandSpots is a location-based brand experience company which offers the opportunity for PopupSpots–pop-up shops in temporary vacant locations for a limited time; OutletSpots–where branded products can be heavily discounted for a short period of time; or WindowSpots–a shop front/window display, which uses digital signage or static posters and/or products in commercial and noncommercial areas. FlySpots–are pop-up shops located in airports for a limited time.